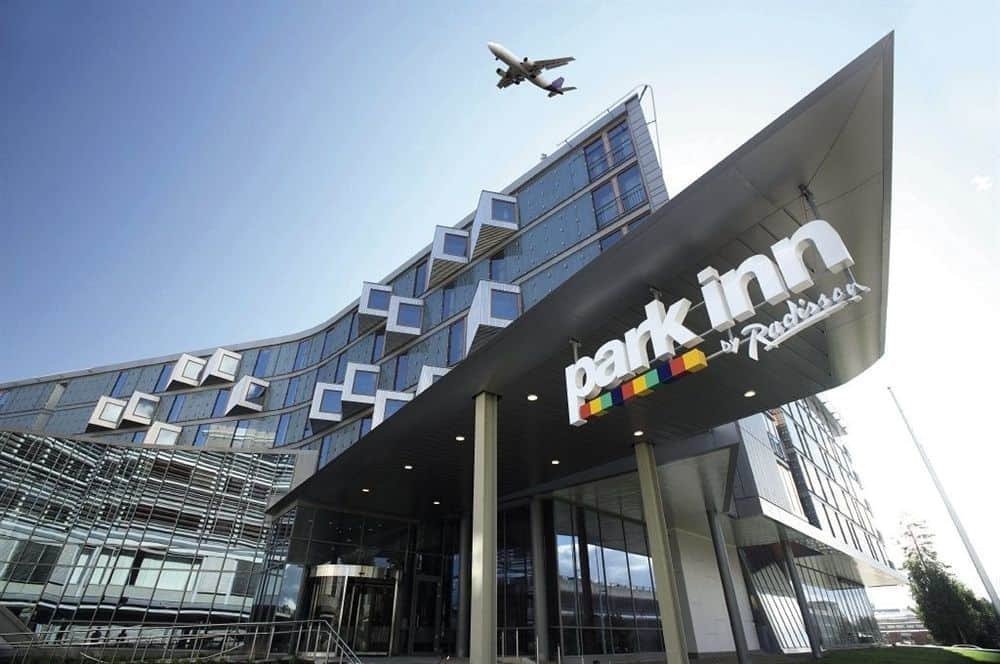 Image (c) Park Inn Oslo Airport, Gardermoen
This article is part three of the series "Trip diary: Three weeks on the road in Florida":
Teaser: New series starts this week
Introduction: A three week road trip around Florida
Hotel review: Park Inn Oslo Airport
Flight report: Lufthansa New Business Class Frankfurt to Miami
First impressions – a Limey driving in the USA
Hotel review: Hilton Miami Downtown
First impressions – an Anglo-Nordic family in Miami
Hotel review: Sheraton Vistana Resort Villas, Orlando
Three theme parks in three days – Day 1: Walt Disney World
Three theme parks in three days – Day 2: Wet 'n Wild
Three theme parks in three days – Day 3: Universal Orlando Resort
Hotel review: St. George Inn, St Augustine
Historical Florida – St Augustine
Hotel review: Hampton Inn & Suites Amelia Island
Amelia Island – the destination for relaxation in northeast Florida
Hotel review: Cedar Key Bed & Breakfast
Old Florida – Cedar Key
Hotel review: The Birchwood, St. Petersburg
Our favourite city in Florida – St. Petersburg
Hotel review: Island Inn, Sanibel
Cruising to Cabbage Key
Great road trips of the world – Highway 1 Hotel review: Orchid Key Inn, Key West The other Florida – Key West Hotel review: South Beach Z Ocean Hotel, Miami Beach
On June 25 our trip to Florida finally began. To ease us into what would be a long trip I'd booked a couple of rooms at this airport hotel so that we could rest up for the two flights the next day. Flying between Trondheim to Oslo is all in a day's work for many people in Norway; indeed commuting between the two cities is actually quite common. The flight lasts under an hour and is not really worth a blog post; you can choose between SAS and Norwegian and there's not a great deal to differentiate the two. Norwegian is often cheaper but charges extra for just about everything – if you appreciate a 23kg baggage allowance, a newspaper and a free cup of coffee then SAS may be worth the extra.
There are several hotels at or near Gardermoen Airport; I wanted to be within walking distance as the plane to Frankfurt was at 06:10 in the morning. Even with all our luggage we walked from the terminal building to the hotel in under ten minutes. The Radisson Blu is actually even closer than this one but is more expensive and not really worth the premium. As noted in my review of their property in Oslo itself, Park Inn is a Radisson brand and is positioned as a mid-range hotel chain and certainly in Norway represents excellent value for money. Their Heathrow Airport property was not in the same league though so there is some inconsistency from country to country.

Anyway, we arrived at Gardermoen late in the afternoon, loaded our bags onto a couple of luggage trolleys and trundled along the covered pathway to the Park Inn. There is an area to leave trolleys outside the hotel so you can generally find one the next day when returning to the terminal.
Park Inn Oslo Airport, Henrik Ibsens Vei,
2061 Gardermoen +47 67 02 40 00
When?
Late June 2013.
Vital stats:
Three stars (unofficial rating as Norway does not use the international star system). Opened 2010, 300 rooms over 7 floors.
Location, location, location?
Obviously an airport hotel is a somewhat different proposition than a city-centre one; here it's all about convenience rather than a great view or proximity to the sights. As I mentioned above you can get from the arrivals hall to the reception desk in about ten minutes and you don't have to worry about finding a shuttle bus or taxi to get there. So it's pretty unbeatable, with only one competitor closer to the terminal.
What about parking?
It seems unlikely that you would want to park a car here; but I suppose if you are an avid plane spotter who wants to stay at the airport it could happen. If this or some other reason necessitates driving your own vehicle it will cost you NOK 290 per day to put it in the hotel car park. I haven't checked but this is probably cheaper than using the airport short-term parking.
Why choose this place?
As I said we needed two rooms without breaking the bank, and wanted to be as close as possible to the terminal. This was quite easily the best value option at Gardermoen.
Room
Image (c) Park Inn Oslo Airport, Gardermoen
Both of our standard double rooms were identical and had the same modern design. There could have been a little more storage space but we coped and we are chronic over-packers so most people should have no issues. The desks are small and would perhaps have been a little cramped for doing some serious work but otherwise it's hard to find fault with the facilities. Rooms feature LCD flat-screen TVs, kettle, desk, iron, telephone, wireless internet. No mini-bar or fridge. Plus points for the laptop-sized safe, always a useful touch.
Image (c) Park Inn Oslo Airport, Gardermoen
The double bed was big and very comfortable – perhaps the most important feature of all.
Carpets?
Again, as in Oslo, Park Inn have gone with carpets here. They were clean and rooms are advertised as allergy-friendly but it's difficult to see how the two go together. I know it's probably just me and my taste but I'd prefer parquet – and this is Norway after all so wooden floors would have been expected.
Bathroom
The bathroom was fairly small but modern, well-lit and clean- It was also well designed so it didn't feel like a squeeze. Again the Park Inn has gone for the more environmentally-friendly wall dispensers instead of individual bottles of toiletries. If you really worry about your hair you'll have your own shampoo with you anyway but the products here were fine. At least from my point of view; and I'm the first to admit I'm not particularly demanding in this regard.
Free internet I hope?
Yes, free to guests who use their room number and surname to get online. You can access the internet via a PC and a smartphone simultaneously without any issues. The service worked very well in all areas of the hotel as far as I could tell.
Bar and restaurant?
Image (c) Park Inn Oslo Airport, Gardermoen
The bar and restaurant are next to each other on the ground floor. When we stayed the latter was serving a buffet and the food was fine; a decent range of the usual unthreatening offerings found all over Norway. No gourmet experience but good value and all we needed. Otherwise the a la carte offered a little more choice but was of course a step up in terms of price.

Pool, sauna?
No, but there is a fitness room on site.
The breakfast was included, right?
Yes, but we had to leave before we could try it, so I'm not going to pass judgement here.
Service
Service was very good both while checking in and out smooth as well as in the restaurant and bar.
Any points/miles to earn?
Yes, Club Carlson points can be earned for each stay (the same programme as for Radisson). It's a good scheme which often has promotions so join up when staying here if you are not already a member.
Can they look after your bags after you check out?
Yes, they can take care of your luggage if necessary.
Green or mean?
The Park Inn chain has a good green profile, again extra kudos for the dispensers instead of individual bottles.
The Damage
The standard double go for NOK 945 with advance payment – if you turn up (perhaps due to a flight delay) and have to foot the bill yourself it'll cost you a lot more; I have seen last minute prices as high as NOK 2100 so it's not the place for a spontaneous hotel night. But then that's true of all airport hotels, so it would be unfair to criticise this one.
The verdict please your honour...
The Good
Excellent value, great location, quiet despite being so close to the runway. Comfortable beds and good service.
The Bad
Here too I'd have liked a mini-bar and wooden floors instead of carpets.
The Ugly
Nothing to report here.
Closing comments:
If you need a hotel at Oslo Gardermoen Airport you'd be hard pressed to find better value than this one. So now Park Inn have another Oslo accolade; as well as the best value accommodation in the city they take the biscuit at the airport too. It was a relaxing start to our trip and allowed us to recharge before the transatlantic flight the following day. For more on that, watch this space. Well, the series on this website then…
Please note: The author travelled as a regular tourist – no mention was made of the fact that a review would be written, the establishment was not informed of the author's intentions and no special discounts were enjoyed.