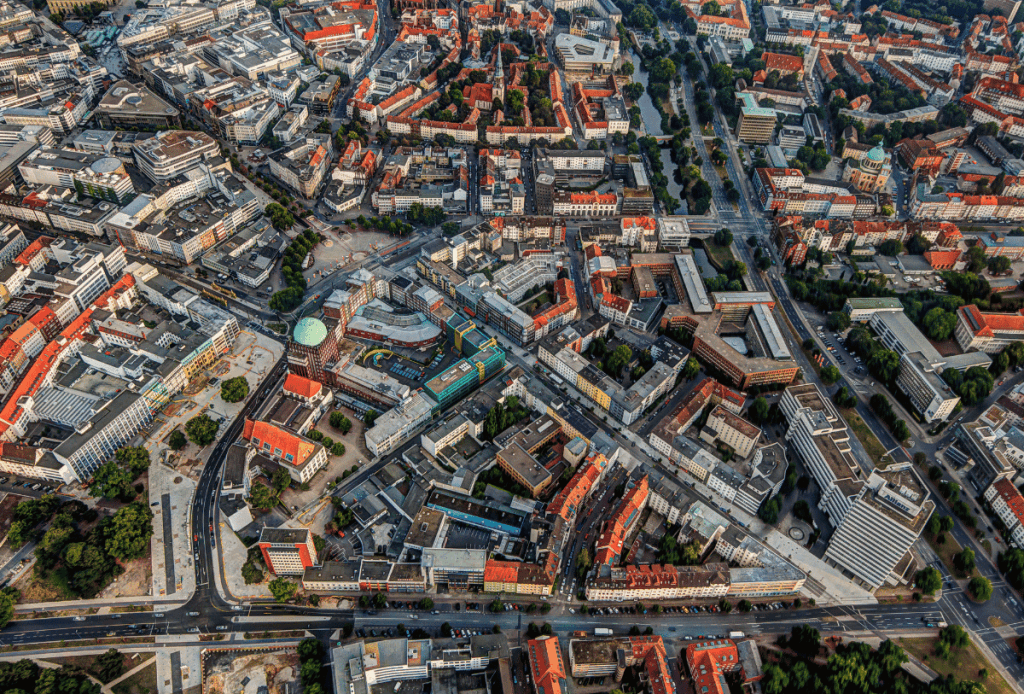 Berlin is a great city. But everyone goes to Berlin and as someone who lived there during the wild west that was the early '90s, it's lost a lot of what made it great. Typical old guy comment, I know. Yet in general the vast changes since the wall fell have been positive, and if you've yet to visit the German capital you definitely should.
The issue is, how many hipsters can you stand? If you think Hoxton in London is pushing it, just try Prenzlauer Berg. It's changed drastically since I was a resident there before reunification and that's a good thing, but I can live without wall-to-wall ramen joints and "crazy" design shops.
That's why I'm so glad I discovered Hannover.
If you're looking for a European city break with a difference, Hannover in Lower Saxony, Germany, could be the perfect destination for you. This historic city is packed with cultural landmarks, stunning gardens, and a vibrant local scene that's perfect for exploring on foot.
Whether you're interested in historical architecture, art museums, or simply soaking up the local atmosphere, read on for what to do in Hannover.
What to do in Hannover: Key Takeaways:
Hannover is a unique and exciting travel destination in Lower Saxony, Germany.
The city offers numerous attractions for tourists, including historic landmarks, green spaces, and cultural experiences.
With a vibrant local scene and excellent public transportation, Hannover is an ideal location for a city break.
Exploring Hannover's Top Attractions
If you're planning a trip to Hannover, be sure to add these top attractions to your itinerary:
New Town Hall
The New Town Hall is one of Hannover's most iconic landmarks, with its impressive architecture and stunning interior. Take a guided tour to learn more about the history and significance of this magnificent building.
Maschsee
Located in the heart of the city, the Maschsee is a beautiful lake that provides a perfect backdrop for a relaxing walk or bike ride. You can also enjoy water sports or simply sit by the lake and take in the serene surroundings.
Herrenhäuser Gärten (Herrenhausen Gardens)
The Herrenhäuser Gärten, or Herrenhausen Gardens, are a must-see destination for any nature lover. These stunning baroque gardens feature a maze, fountains, and beautiful flowerbeds. Don't miss the chance to attend one of the many concerts and events held here throughout the year.
Sprengel Museum Hannover
The Sprengel Museum Hannover boasts an impressive collection of modern art, including works by Picasso, Klee, and Nolde. The museum also features special exhibitions and events throughout the year.
Erlebnis Zoo Hannover
The Erlebnis Zoo Hannover is a great destination for families, featuring a wide range of animals and interactive exhibits. Meet the penguins, ride the safari train, and don't forget to check out the underwater world in the aquarium.
Historical and Cultural Landmarks in Hannover
Aside from the city's modern attractions, Hannover is also rich in history and culture, with several noteworthy landmarks that should not be missed. Visitors can explore some of the city's fascinating historical monuments and landmarks, including:
Aegidienkirche (Aegidien Church)
One of Hannover's most notable landmarks is the Aegidienkirche, a ruin of a 14th-century Gothic church that was destroyed during World War II. The ruins of the church now serve as a memorial and a somber reminder of the war.
Berggarten (Mountain Garden)
The Berggarten, a large botanical garden in the Herrenhausen district, is a must-visit for nature lovers. The garden is home to a vast collection of exotic plants and flowers from around the world, as well as a palm house, an orchid house, and a tropical house.
Eilenriede
For a peaceful escape from the city, head to Eilenriede, a massive city forest that spans over 650 hectares. The forest is home to several walking and cycling trails, picnic areas, and playgrounds for children.
No visit to Hannover is complete without exploring its rich history and culture, and the landmarks mentioned above are a great place to start.
Sports and Entertainment in Hannover
If you're a sports enthusiast or just looking for some entertainment, Hannover has plenty of options to keep you busy. The city is home to the HDI Arena, which is the home stadium of the Hannover 96 football team and can hold up to 49,000 people. Whether you're a fan of the team or simply love the atmosphere of a live football match, this is a great spot to check out.
If you're more interested in a laid-back experience, head to Kröpcke, a bustling square in the heart of the city. This lively plaza is a popular hangout spot for locals and visitors alike, with plenty of cafes, restaurants, and shops to peruse. Grab a coffee and soak up the charming atmosphere while people-watching.
Culture lovers will appreciate the city's vibrant arts scene, with numerous galleries and museums showcasing everything from contemporary art to traditional crafts. The Kestner Museum is a must-visit for art enthusiasts, while the Hannover Zoo offers a one-of-a-kind experience for animal lovers.
The Hannover Congress Centrum (HCC) is another popular destination for events and exhibitions. With a variety of spaces available, the HCC hosts everything from concerts and trade shows to conferences and galas. Check their schedule to see if there are any upcoming events that catch your eye.
Shopping and Dining in Hannover
When it comes to shopping in Hannover, visitors will find a variety of options to suit their needs and budget. The city is home to several shopping districts, including the popular pedestrian zone of Bahnhofstrasse and the Ernst-August-Galerie shopping center. For those looking for a more unique shopping experience, the districts of Linden and List offer a range of independent boutiques and vintage stores.
Foodies will also enjoy the dining options in Hannover. The city's cuisine is a blend of traditional German fare and international flavors, with plenty of local specialties to try. Visitors can indulge in mouthwatering schnitzel and bratwurst, or sample fresh seafood and vegetarian dishes at one of the many restaurants in the city.
Overall, Hannover's shopping and dining scene offers a unique glimpse into the city's culture and history. From traditional markets to high-end boutiques, there is something for everyone to enjoy while exploring this charming city.
Enjoying Nature in Hannover
Hannover is a city renowned for its stunning green spaces, and visitors are spoilt for choice when it comes to enjoying nature. Whether you're seeking a peaceful stroll through tranquil gardens or an invigorating hike through lush forests, Hannover has it all.
Gardens Galore
One of the highlights of Hannover is its numerous beautiful gardens. One must-visit garden is the Herrenhäuser Gärten, which boasts an impressive collection of baroque and botanical gardens. Another popular option is the Berggarten, which is home to some of the rarest and most fascinating plant collections in the world. If you're looking for a more secluded spot, the quiet Leibniz Temple Garden is a hidden gem.
Parks for all Seasons
For those looking for a spacious park to relax and unwind in, Hannover has several options. The Eilenriede, one of the largest city parks in Europe, is perfect for picnics, jogging, or simply taking a walk through its vast woodlands. Meanwhile, the Maschsee Lake offers a picturesque setting for a lazy afternoon, with plenty of benches and green spaces to settle down on. Other notable parks include the Georgengarten, a stunning English-style park, and the Stadtpark, which offers a variety of sports and leisure facilities.
Overall, Hannover's green spaces offer a refreshing escape from the hustle and bustle of the city. Be sure to set aside some time to explore them during your visit.
Hannover's Unique Culture
Hannover may not be as well-known as some of its neighboring cities in Germany, but that doesn't mean it lacks culture. In fact, the city is home to numerous cultural attractions that are sure to impress visitors.
Art Museums
Art enthusiasts will love exploring Hannover's art museums. The Sprengel Museum Hannover is one of the most famous, boasting an impressive collection of modern art. The museum features works by artists such as Pablo Picasso, Max Ernst, and Salvador Dalí.
For a more traditional art experience, the Kestnergesellschaft is a must-visit. The museum showcases a range of art, including paintings, sculptures, and installations, and attracts both national and international artists.
Zoo
The Erlebnis Zoo Hannover is not your average zoo. It's a combination of a traditional zoo and an amusement park, providing visitors with a fun and unique animal experience. The zoo is home to more than 3,600 animals, including elephants, giraffes, and polar bears, and activities like a jungle safari and a boat ride through the flamingo lagoon.
Churches
The Aegidienkirche is one of Hannover's most famous churches, and it's not difficult to see why. This stunning church dates back to the 14th century and features a beautiful Gothic facade. Although the interior of the church was destroyed during World War II, the exterior remains a popular attraction.
Another notable church in Hannover is the Marktkirche, which is located in the city center. The church is famous for its impressive Baroque architecture, which features a stunning central dome and intricate artwork.
Exploring Hannover's Surroundings
While Hannover offers plenty of attractions and experiences within the city limits, it's also worth exploring the surrounding areas to fully appreciate the natural beauty of Lower Saxony. From tranquil lakes to meticulously-manicured gardens, there's something for everyone just a short distance from the city.
Discover Peaceful Lakes
One must-visit destination for nature lovers is Steinhuder Meer, the largest lake in Lower Saxony. Located just 30 kilometers west of Hannover, this sprawling body of water is perfect for swimming, sailing, or simply taking a relaxing stroll along the shoreline.
If you're looking for a quieter and more secluded spot, visit the serene Maschsee lake in the heart of Hannover. Spanning over two kilometers in circumference, this man-made lake offers a tranquil oasis in the midst of the bustling city.
Take in Stunning Gardens
Just 20 minutes northwest of Hannover by car, the Herrenhäuser Gärten (Herrenhausen Gardens) are a true feast for the eyes. These immaculate gardens span over 50 hectares and boast a range of styles, from the baroque-style Great Garden to the neoclassical Berggarten (Mountain Garden) which houses an impressive collection of exotic plants.
For a more intimate garden experience, visit the Georgengarten in the north of Hannover. This peaceful park offers a variety of flora and fauna, as well as a charming tea house where you can take a break and relax.
No visit to Hannover would be complete without exploring the surrounding areas. So why not take a day trip to one of these stunning destinations and discover the natural beauty of Lower Saxony?
Tips for a Memorable Trip to Hannover
As you plan your city break to Hannover, there are several things to keep in mind to ensure a memorable trip:
Consider visiting Hannover during the summer months when the weather is mild and perfect for outdoor activities, such as exploring the city's parks and gardens.
Don't forget to pack comfortable walking shoes, as Hannover is a walker's paradise with many attractions within walking distance of each other.
Take advantage of the city's excellent public transportation system, which includes trams, buses, and trains, to save time and money.
For a deeper cultural experience, consider learning a few basic German phrases to communicate with the locals and immerse yourself in the city's rich culture.
Finally, take some time to explore the lesser-known parts of the city, such as its quirky street art scene or hidden cafes, to truly appreciate the charm and character of Hannover.
With these tips, you're sure to have a fantastic time in Hannover. Be sure to check out my Hannover trip report for more information on planning your trip.
Conclusion
Hannover, Germany is a city that has something to offer for everyone. Whether you're looking for history and culture, sports and entertainment, shopping and dining, or enjoying nature, Hannover is the place to be. As highlighted in this Hannover travel guide, the city boasts of numerous attractions and landmarks, from the iconic New Town Hall to the beautiful Maschsee lake. You can explore the stunning Herrenhäuser Gärten or visit the Sprengel Museum Hannover for a dose of culture. With its vast open spaces, including the city forest Eilenriede and the numerous parks and gardens, Hannover is a nature lover's paradise.
Additionally, Hannover's unique culture is reflected in its art museums, historic churches, and the family-friendly Erlebnis Zoo Hannover. The city is also an excellent base for exploring the natural beauty of Lower Saxony, with its nearby lakes and gardens.
If you're planning a city break, Hannover is definitely worth considering. With a recommended travel duration of 2-3 days, you will have enough time to explore the city's attractions and get a taste of its vibrant cultural scene. Just remember to be mindful of cultural etiquette when interacting with locals.
Overall, Hannover is a hidden gem waiting to be discovered. This Hannover travel guide has only scratched the surface of what the city has to offer. We hope that it has inspired you to consider Hannover for your next travel adventure.