Kaffefuglen
Image obtained from Flickr.com under Creative Commons (c) gimme! coffee
It's an oft-repeated (but nevertheless true) fact that Norwegians drink more coffee than anyone else on the planet – some ten billion cups a year or a staggering 10 a day. There is no shortage of places to buy a dose of caffeine in the Norwegian capital but Kaffefuglen is arguably the most stylish – the style in question being that of the 1960s. As with the Stockholm cafe String, you can also buy anything you see inside from the cups to the furniture, should you so desire.
Image (c) Kaffefuglen
In the evenings from Thursday to Saturday you can also get something stronger than coffee when 'Fuglen' serves up cocktails. And they're not just playing at being a bar either – their own creation won a Norwegian cocktail competition last year. The success of the establishment has led to the opening of another branch, but in Tokyo rather than Trondheim. A bold move, but not half as bold as the fact that Fuglen will be selling Norwegian sake from the Nøgne Ø craft brewery. Yes, in Japan. Oh and in case you were wondering the name means 'coffee bird'.
Kaffefuglen, Universitetsgaten 2, 0164 Oslo. Open (day) Monday-Friday 0730-1800, Saturday, Sunday  1200-1800 (night) Thursday-Saturday 2000-0030
Tram to Tullinløkka. http://www.fuglen.no/
Emanuel Vigelands Museum
Image (c) Leif Riksheim BONO Emanuel Vigelands Museum
On the few occasions that anything is actually written about this place, it almost always includes the words, 'Oslo's best-kept secret'. There is still a great deal of truth in this and when people talk of Vigeland it is usually about Emanuel's older brother Gustav (he of the statues in Vigeland Park). Even those living in the neighbourhood seem unaware of the museum, but you should make the effort to take a look. It is actually a mausoleum and intentionally offers a different kind of experience.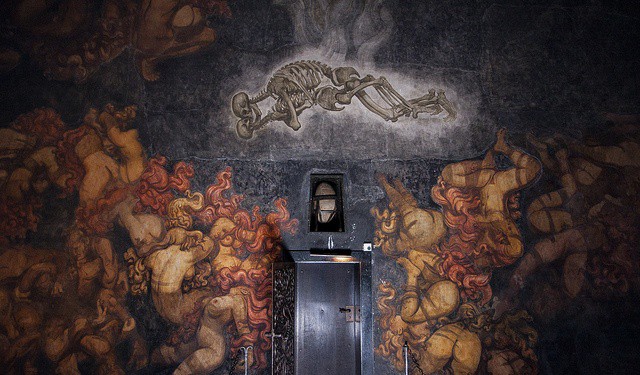 Image (c) aktivioslo.no
It's dark and foreboding and your footsteps echo for 20 seconds due to the amazing resonance inside – a fact which has not gone unnoticed by musicians. Several artists have both played gigs and recorded tracks in the burial chamber. The frescoes adorning the walls are atmospherically lit and a visit here is not like standing in line at the Louvre. You'll have to get here on a Sunday as it's closed the rest of the week which in fact makes it a perfect addition to your weekend itinerary – Sunday is a quiet day in Oslo.
Emanuel Vigeland Museum, Grimelundsveien 8, Slemdal Open Sunday only: 12.00-17.00. (15 May – 15 September)  12.00-16.00 (16 September – 14 May)
T-bane to Slemdal. http://emanuelvigeland.museum.no/museum.htm
Sune Sports and Games
Image (c) misterearlmusing.blogspot.com
Well, I promised you something unusual, and this place definitely ticks the boxes. It's a shop open two hours a week (on Tuesday afternoons) run by former frisbee world champion Sune Wentzel, and it's devoted to the sport of frisbee golf. By 'devoted to' think over 1000 different types of frisbee. You may not be familiar with the game but there are in fact more than 40 places to play in Norway alone and the man himself reckons frisbee is the fifth largest competitive sport on earth. That includes all the different types of frsibee game including (ahem) playing with yourself. Which is known as Self-Caught Flight, by the way.
Image obtained from Flickr.com under Creative Commons (c) Asbjørn-Floden
Instead of whacking a ball into a hole the aim is to float your frisbee into a metal net – and there's way less snobbery than for regular golf. Having said that, you can clearly get involved in equipment envy if the sheer variety of products on sale in his store on the outskirts of Oslo is any guide. If you can't make it during the brief window of opening Sune has an extensive online store where you can find anything you could possibly need (and plenty you didn't know you needed) for 'park and recreational activities'. Sounds great for larking around on the lawns of Vigeland Park after your early morning swim at Frognerbadet.
Sune Sports and Games, Østre Akers vei 203, 0975 Oslo. Open Tuesday afternoons only, contact store via website for details.
T-bane to Rødtvet, Train to Nyland. http://www.sunesport.no/
Do you have anything you'd like to add to this list – something out of the ordinary in Oslo? Please add your tips in the comments below, we'd love to hear from you!