http://de.wikipedia.org/wiki/Autobahn%C3%BCberbauung_Schlangenbader_Stra%C3%9Fe
Breakfast on top of the Reichstag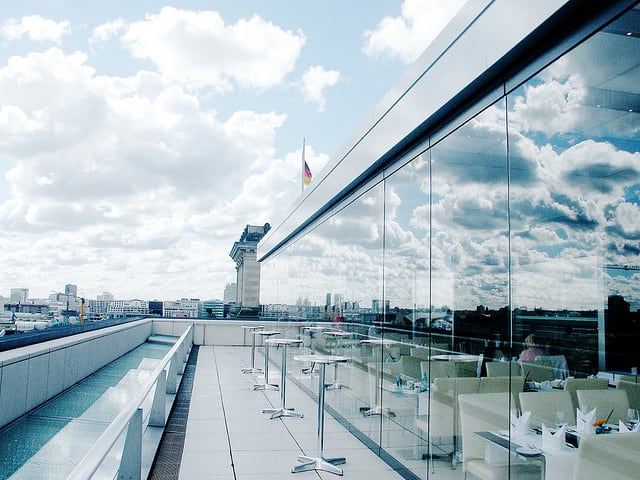 Image obtained from Flickr.com under Creative Commons (c) SIRDS
Okay, it's time to share one of my top tips for Berlin. I'm sure you are planning to visit the Reichstag and climb its impressive glass dome walkway when you visit the German capital. After all, it's an amazing sight and free too. The only problem is that you now have to register in advance online and on the few occasions they allow visitors in without doing so the queues are horrendous. But if you know how, you can skip them and enjoy an extremely hearty breakfast on top of the building at the same time!
The German Bundestag is in fact the only parliament building in the world to house a public restaurant, situated right next to the glass dome with superb views over the city.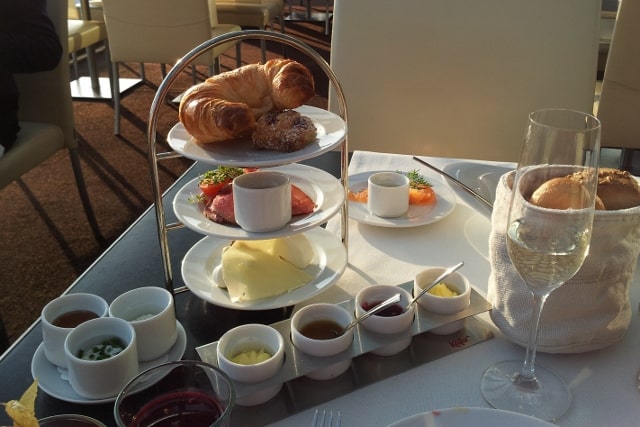 Image (c) Andy Higgs, Grown-up Travel Guide
The restaurant Kafer serves quality modern German cuisine accompanied by German wines – but perhaps the best bet is breafast. Simply email them before visiting to book a table between 0900 and 1015 and turn up at the main entrance. If the weather is good sit outside on the terrace and try to make it through the full breakfast with Sekt (sparkling wine) while admiring the panoramic view over the city.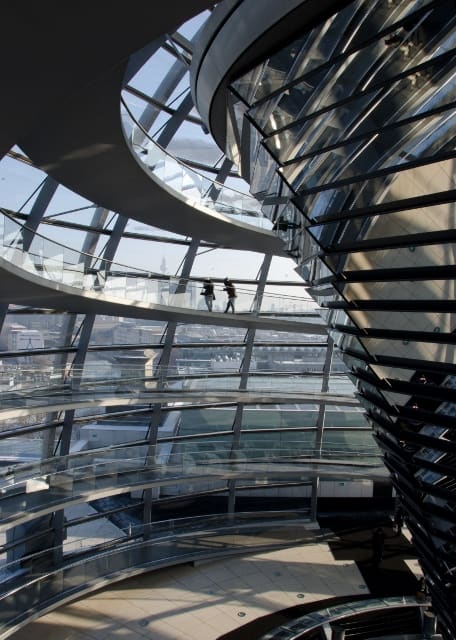 Image (c) Andy Higgs, Grown-up Travel Guide
Note that you will have to provide your full name and date of birth when booking and that you should bring ID for security clearance purposes. You will have to go through an airport-style body and baggage check before being escorted into the building, where you can pick up a headset and audio tour for the dome. It's a wonderful experience and you'll then be free to visit the dome afterwards and walk off a few calories…
Restaurant Kafer, Reichstag Building. Reservations email: kaeferreservierung.berlin@feinkost-kaefer.de  Breakfast 0900-1015 Lunch 1200-1430 Tea 1530-1630 Dinner 1830-0000.
U Bahn Bundestag. Check website for details: http://www.feinkost-kaefer.de/dt_bundestag10/
Badeschiff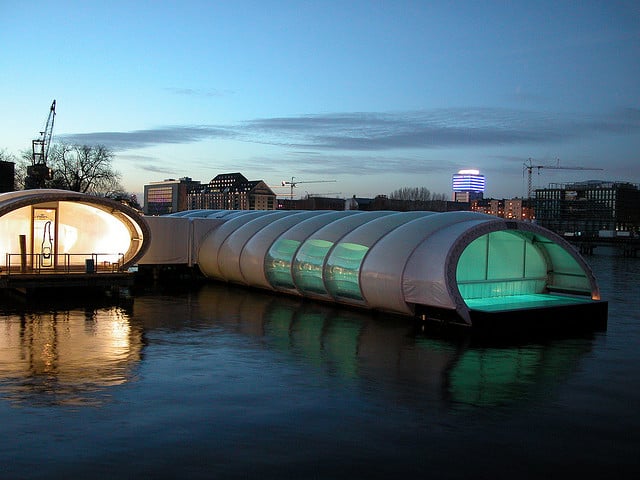 Image obtained from Flickr.com under Creative Commons (c) Maurizio Mucciola
The "bathing ship" – a floating pool, sauna and bar on the River Spree in Treptow is a massive hit in the summer – but what many visitors don't realize is that there is a winter version open in the colder months. Enclosed in a cosy membrane out on the water you'll find two saunas (95 °C & 70 °C), a swimming pool, rest area, massage rooms, lounge with a bar and a great view of the skyline of Berlin. A selection of healthy snacks and drinks are also available for purchase. Visit at night for the ultimate way to recharge your batteries before partaking of the Berlin club and bar scene. Turn up at the main onshore building, buy your ticket and rent towels, robes and slippers as required.
Image obtained from Flickr.com under Creative Commons (c) Maurizio Mucciola
Given that this is Germany most people go fully naked under their robes and let it all hang out in the sauna and pool – but thankfully you'll not be kicked out for keeping your shorts or bikini on either. Its location makes it ideal for relaxing before or after visiting Katerschmaus too – a combination I can recommend. Note that no cards are accepted – cash only.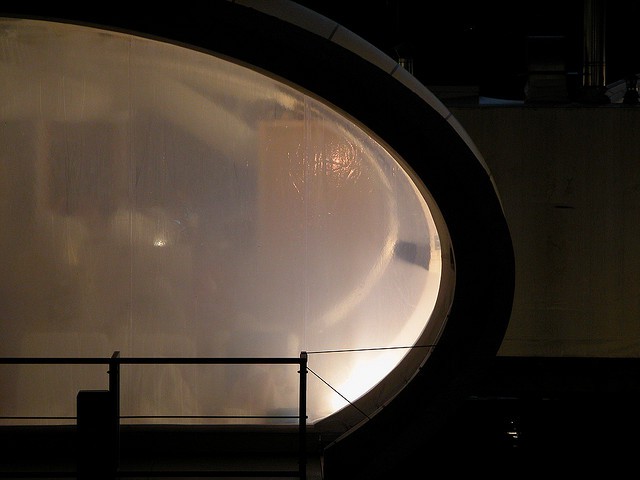 Image obtained from Flickr.com under Creative Commons (c) Maurizio Mucciola
Badeschiff, Eichenstraße 4, 12435 Berlin-Treptow. Opening times vary daily – see website for details
http://arena-berlin.de/badeschiff_winter_2011-2012.aspx
Spreepark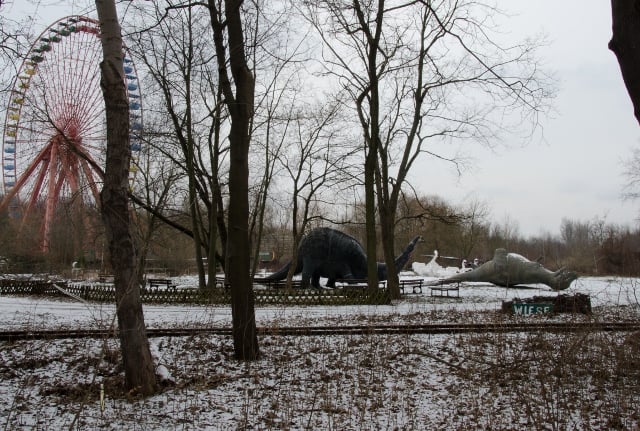 Image (c) Andy Higgs, Grown-up Travel Guide
This abandoned amusement park began life in East Berlin in 1969 as Kulturpark Plänterwald, the only one in the DDR. After the wall fell it was privatized and continued to operate before a series of almost comical events involving bankruptcy, drug smuggling and imprisonment led to its closure in 2001. It then became beloved by urban explorers and those after surreal photo opportunities of  decaying dinosaurs and overgrown roller coasters. Even more exciting, the only way to get in was to climb over the fence. It seems that the family that owns the park realized it was a case of "if you can't beat them, make some money out of them" and began to offer tours on Saturdays which became extremely popular – they even opened a cafe in the park. You will have to register on the website in advance as places are limited.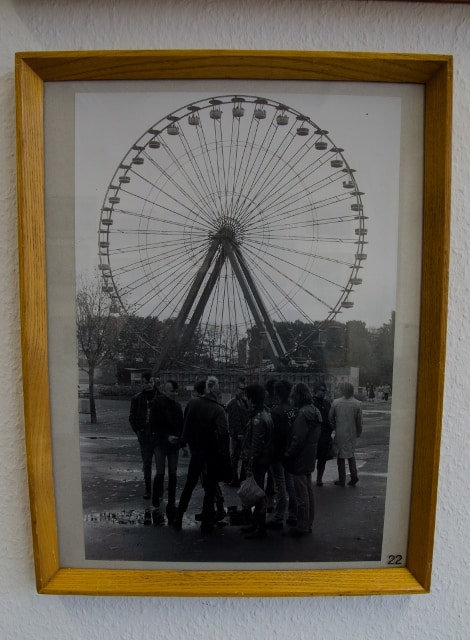 Image (c) Andy Higgs, Grown-up Travel Guide
The park was once a landmark of communist East Berlin and can be seen in many photographs from that time – including this one taken by Stasi agents spying on punks and on show at the Stasi Museum.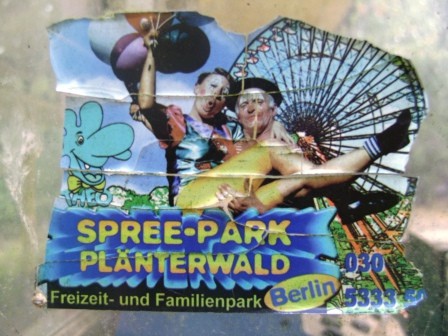 Image obtained from Flickr.com under Creative Commons (c) jc_82
Many of the attractions remain but are overgrown and rusting. Yet this is the attraction, and the silence of the place creates an eerie atmosphere – which is why most people prefer to break in and avoid the crowds of the official tours. To gain entry to Spreepark you'll have to find one of the many holes in the fence to squeeze through or a low part to jump over. Signs state that the park is patrolled by guards 24/7 but I saw nobody and this is believed to be no more than a deterrent. Of course it's up to you but the risks are worth it for the  graveyard of beheaded dinosaurs and swans, an large abandoned ferris wheel that creaks in the wind and a neglected lake.
Spreepark, Kiehnwerdeallee 1-3, 12437, Berlin. S-Bahn Treptower Park. Tours on Saturdays only.
http://www.berliner-spreepark.de/events_fuehrung.php
Need to save up for your time in Berlin? If you're feeling lucky, you might be able to boost your trip budget with a spin of the wheel at InstaCasino…
Do you have anything you'd like to add to this list – something out of the ordinary in Berlin? Please add your tips in the comments below, we'd love to hear from you!