Pizzeria San Marco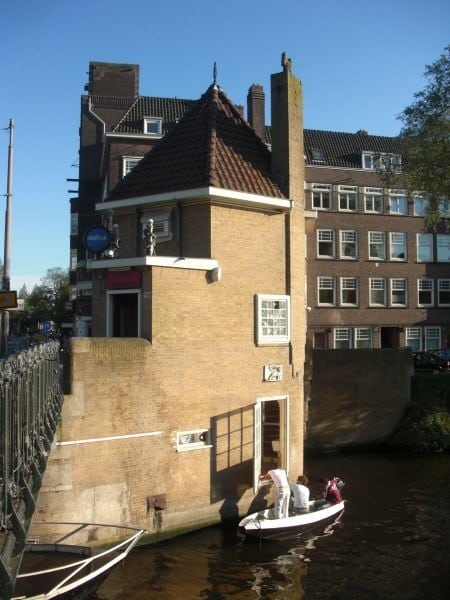 Image (c) nlarchitects.wordpress
While most cities (including, in fact, Amsterdam) have a drive-thru or two, given all the canals in the city what could be more natural that a sail-thru? This pizzeria makes the most of its rather unusual location on a bridge in central Amsterdam by including a take-away serving hatch at water level. Glide up in your boat, place your order and take it with you when ready.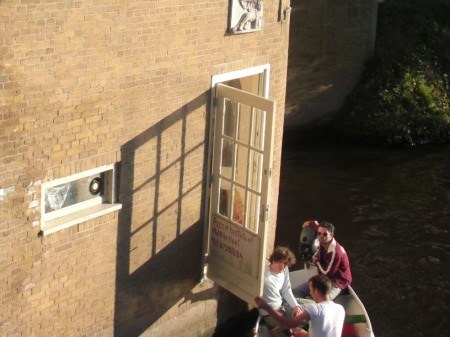 Image (c) nlarchitects.wordpress
There is also a small dining area if you left your barge at home, and the pizzas are pretty good. Well worth stopping off if you've hired a boat and get hungry while exploring the waterways. Even if you're just passing it's fun to watch money and pizza change hands on the Amstel River.
Pizzeria San Marco, Amstelkade 148-A, 1078 AW Amsterdam. 
Boat to the pizzeria, or take the tram to Scheldestraat. http://www.pizzeria-san-marco.nl
Brouwerij 't IJ
Image (c) amsterdamimage.com
It's becoming rather a tradition for our guides to include a decent brewery, so why should Amsterdam be any exception? This one has a real Dutch twist too given that the beer is produced in a windmill. Rather like the Goose Island Brewery in Chicago this venture was started on a whim by a beer enthusiast and has grown to be a major success. Kaspar Peterson began his company in a squatted building beside the river IJ in 1983 before moving here in 1985. All of Brouwerij 't IJ's beer is brewed on the premises – some 300,000 litres of it.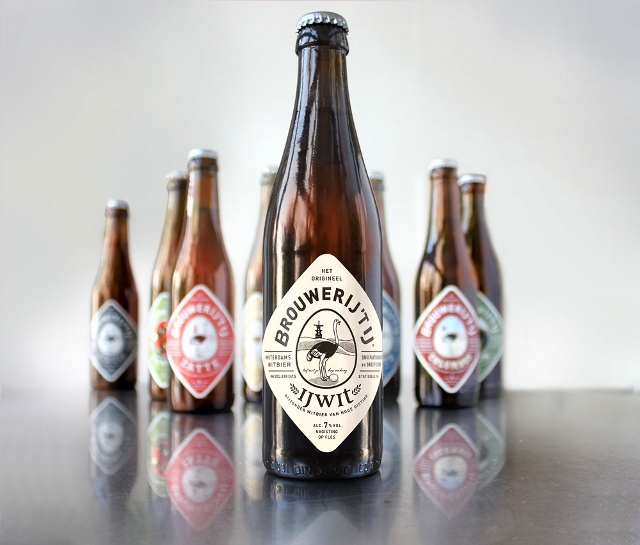 Image (c) ohbeautifulbeer.com
The range includes four 100% organic versions – Natte, Zatte, Columbus and Struis. Most of the beer never makes it out of the brewery, as it is sold in the pub. The beer that does make it out of the brewery is sold in – wait for it – health food shops all over the Netherlands, as well as off licences and bars. The beer is strong and very good value, and be careful; even though the measures may look small it packs a punch. Locals even have their own expression for those who end up stumbling out after their first visit – spinmilled.
Brouwerij 't IJ, Funenkade 7, 1018 AL Amsterdam. 
Take the tram to Zeeburgerstraat. http://www.brouwerijhetij.nl/index_en.htm
Fifteen
Image (c) coolcapitals.com
Many of our readers will have heard of Jamie Oliver's restaurant 'Fifteen' in London. An interesting and highly successful mix of charity and good food, the concept one of a social project which selects 15 to 20 disadvantaged but highly motivated young people and gives them the chance to become chefs and reintegrate into the community. These young chefs are trained in both theory and practice for 16 months in the Fifteen kitchen, and then helped to find employment. The Foundation behind the scheme is mainly financed by the restaurant, but is also partly dependent on local subsidies and other contributions from private funds and sponsors. Prices are a little higher than you may be used to in Amsterdam but it's definitely worth it (and it's for a good cause after all) – our tip is to use a good online resource for cheap hotels and you'll have more money to enjoy the food.
Image obtained from Flickr.com under Creative Commons (c) mooste
The London branch is very popular and getting a reservation is no easy task – but did you know that the franchise has a restaurant in Amsterdam? Securing a place here is much easier and the food, decor and atmosphere and right up there with the original. The menu is not huge but the modern Italian recipes are excellent and the wines well selected. Since 2008 Fifteen has also been an official wedding location for Amsterdam. This means that if you want to tie the know in an original setting you can have both the ceremony and the reception right here on the banks of the canal. So you could pull up in a boat for added style. Hey, just an idea!
Fifteen, Jollemanhof 9 Zeeburg, Amsterdam 1019 GW
Take the tram to Kattenburgerstraat. http://fifteen.nl/
Do you have anything you'd like to add to this list – something out of the ordinary in Amsterdam? Please add your tips in the comments below, we'd love to hear from you!