This article was written by Grown-up Travel Guide contributor Jeremy Head
Continuing our mission to inspire and inform Grown-up Travellers we present the latest in our series of articles containing ideas for alternative things to do and see in well-known destinations. So far we've shared our tips on London, Stockholm, Copenhagen and Berlin. Then we featured Oslo, Paris, Amsterdam, Chicago and Istanbul. We then focused on Australia and you can check out these guides to Perth, Melbourne and Sydney before coming back to Europe – this time we turn to Belfast, a city very much on the up after decades in the doldrums and a bit of an undiscovered gem…
So it's not just about scary pubs where people got shot at during the Troubles?
The sectarian violence of the 70s and 80s has left its mark on the city and even contributed to its tourist trail, but the advent of the Good Friday agreement has ushered in a new period of relative peace, prosperity and growth along with a host of new attractions.
5 things in Belfast you can do that you absolutely can't do in Dublin
Sure, everyone has visited the Irish capital – and they all know how to enjoy the craic and that the Guinness tastes better there* – so why not be a little different and head north of the border?
*apparently it's something to do with the water
Titanic Belfast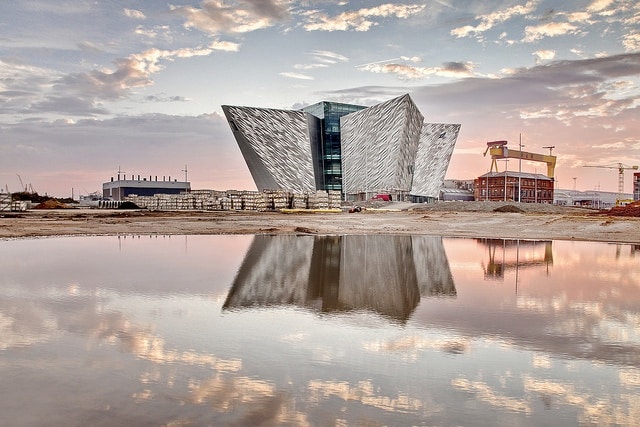 Image obtained from Flickr.com under Creative Commons © Titanic Belfast
OK. So the city's newest visitor attraction is all about a ship that sank with huge loss of life, but don't let that put you off. Titanic Belfast is truly spectacular – a modern museum full of clever audio visual wizardry to bring the most famous ship in the world to life. Just the exterior is breathtaking – a feast of angles all clad in shimmering aluminium shards. Inside you'll find exact reproductions of cabins, floor-to-ceiling views down the slipway from which Titanic was launched, intimate portraits of crew and passengers, moving descriptions of the heroism and horror of the sinking and large scale video installations featuring footage shot deep underwater of the wreckage that remains today.
Aunt Sandra's Sweetie Factory
Image © grannymar.com
You'll be needing some calories to keep you going after you've spent hours (and you will do) gawping at the exhibits at Titanic Belfast, so pop into this funky little emporium of all things sweet which just happens to be a sherbet lemon's throw away. This isn't just a shop either – as the name suggests, they make much of their cool confectionary right here. Fudge, handmade chocolates, toffee apples – if you have a sweet tooth, you will be in heaven here. You can book tours of the factory too.
Black Cab Tour
Image obtained from Flickr.com under Creative Commons © katymcc
Back in the dark days of the Troubles certain parts of the city were pretty much no-go areas for public transport. The city's black cab drivers filled the vacuum providing the equivalent of hop-on hop-off services along key routes like the Shankill and Falls Roads. From out of this chaos when peace came was born the Black Cab Tour. These days lots of people offer the service, but originally it was a bunch of those same cab drivers offering personalised guided tours in their cabs of key areas associated with the Troubles – in particular the full scale murals on the sides of houses depicting key events associated with the struggle between Catholic and Protestant communities. If you want to get a real insight into Belfast's unique atmosphere and culture – with none of the gloss – then jump in a Black Cab.
www.belfastblackcabtours.co.uk
The Crown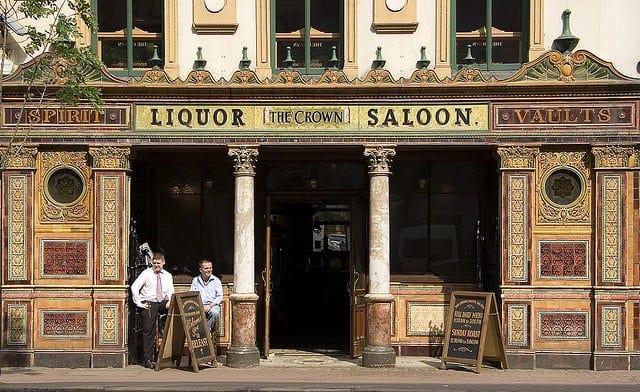 Image obtained from Flickr.com under Creative Commons © andy lapham
Actually, this is something you can do in Dublin –a lot. Regardless of which side of the border you are, you have to down a pint in a wonderfully ornate old boozer if you visit Ireland. The Crown Liquor Saloon is without question the place to sup in Belfast. You'll be surrounded by centuries of history in this wonderful old pub – all ornate old booths just made for hatching clandestine plans, twinkling old lamps and a bar bedecked with ornate tiles and gold leaf. It's such a historic gem that the building itself is owned by the National Trust. And seeing as we're in Northern Ireland, forget about drinking Guinness – ask the barman for a pint of guest ale and see what's on offer. The pub is a fixture on the Campaign for Real Ale's best pubs in Northern Ireland list – so you're guaranteed a fine pint.
St George's Market
Image obtained from Flickr.com under Creative Commons © William Murphy
There's been buying and bartering going on at the spot where St George's Market currently stands since the early 1600s. The current building is Victorian – a stately arcade of brick and glass that has been recently restored. Under its protective wing you'll find several hundred stalls selling the freshest of local produce and all manner of other stuff including local handcrafts, souvenirs, antiques and more. The best days to go are Saturdays and Sundays when there's often live music happening too and plenty of stalls selling great value snacks to munch on. It's perfect for browsing, kicking back with a newspaper or just people watching.
www.belfastcity.gov.uk/stgeorgesmarket/
Getting there: You can fly to Belfast direct from various airports in the UK with easyJet, Jet 2 and Ryanair. For a great range of holidays in Ireland, check out Travel Republic of Ireland
About our contributor
Jeremy Head is a freelance travel writer and broadcaster – over the years he has authored guidebooks, appeared on TV and written for most UK national newspapers. Most memorable moment? Drinking snake vodka in Vietnam (actually, scratch that – he couldn't remember a thing).