This article was written by Grown-up Travel Guide contributor Armand Smith with additional material by Andy Higgs
Continuing our mission to inspire and inform Grown-up Travellers we present the latest in our series of articles containing ideas for alternative things to do and see in well-known destinations. We started by sharing our tips on London, Stockholm, Copenhagen and Berlin. Next came Oslo, Paris, Amsterdam, Chicago and Istanbul. We then focused on Australia – you can check out these guides to Perth, Melbourne and Sydney – before coming back to Europe with Belfast and Levi in Finland. Today we're off to warmer climes…
I'm still waiting for Ouagadougou.
Not really on the schedule right now but I'll keep you posted. At least you're in the right hemisphere though…
Bujumbura? Kinshasa?
Again, you're a bit ahead of us there. No, today we're looking at the flashy city of Dubai – away from the more obvious attractions.
Dubai is a world-renowned tourist destination famous for luxurious sky scrapers and high-end shopping. But what if you're looking for something a bit more authentic? There's plenty in Dubai for travellers looking for those off-the-beaten-path experiences. From exotic safaris to a desert oasis, there is beauty and adventure awaiting you in Dubai.
5 things in Dubai that you might not have expected *
* we can't vouch for this as we have no idea what your expectations are. But it's a nice soundbite, so let's leave it there, shall we?
High-adrenaline adventures in the desert
Image obtained from Flickr.com under Creative Commons (c) Kim Davies
There are, indeed, oceans of sand in Dubai. There are also myriad ways to enjoy that sand, but these are two of the best – if you like action. For a truly hands-on experience, consider renting a dune buggy. The company Dream Explorer comes highly-recommended and combines safety and service with a truly great time. You can simply rent a dune buggy and tear around the sand dunes, or you can opt for a package deal which includes pick-up and drop-off as well as a BBQ dinner. Either way you'll be given basic training in how to handle the vehicle and deal with the conditions (we're assuming you're not used to driving on sand). For something more down-to-earth but no less frenetic, try sandboarding. It's a popular sport in Dubai and is enjoyed year-round. If you're a beginner, get a tour guide to help you find a less busy spot where you can practice. Sandboarding is often included in tour and safari packages.
Go on safari
Image obtained from Flickr.com under Creative Commons (c) Andreas Hunziker
You won't be seeing elephants or lions in this part of the world but you can have plenty of memorable experiences on safari Dubai-style. Be whisked away through the desert to tour a camel farm, watch an incredible sunset, ride a camel, get henna tattoos, smoke a shisha (Arabic water pipe), enjoy a belly dancing performance and have a fabulous inner. There are a variety of tour operators offering different packages but one which consistently receives good reviews is Arabian Adventures.
Water in the desert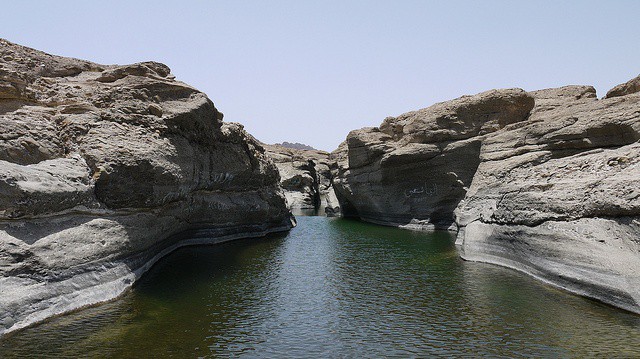 Image obtained from Flickr.com under Creative Commons (c) krebsmaus07
Dubai may be located on the water but there are hidden pools and oases to be found in the desert too. At the right time of the year Hatta Rock Pools offer a refreshing break from the relentless heat. Located in the Hajar Mountains, the Hatta Rock Pools are a beautiful oasis with spring-fed pools and waterfalls. You can take a dip here and swim through passages in the rocks, experiencing the natural beauty of the area. Be sure to visit in the winter as the pools tend to dry out during the summer. Another water-based attraction can be found in Dubai itself – while in the city make sure you catch a performance of the Dubai Fountains. Created by the same team that designed the fountains at the Bellagio hotel in Las Vegas, the Dubai Fountains provide an exciting spectacle of water dancing in time with lights and music over the Burj Khalifa Lake. During the show, water shoots up as high as 500 feet.
Get out of town
Image obtained from Flickr.com under Creative Commons (c) Nitin Badhwar
Dubai is not the only city in the emirate and it's well worth visiting it's lesser-known neighbours – either on your own or as part of a sightseeing tour which can be a great way to see parts of Dubai you wouldn't ordinarily encounter. Keep in mind that some tour bookings require hotel bookings as well. Explore the third-largest city in the UAE, namely Sharjah – known as the 'Pearl of the Gulf'. Sharjah City is home to the King Faisal Mosque, one of the largest in the United Arab Emirates. Most tours usually include stops at the Fort of Sharjah, the Sharjah Heritage Museum and a variety of souks (markets) – all of which you should include if travelling under your own steam. Make sure you also visit Al Ain. Built on an oasis and thus beautifully green it certainly deserves its 'Garden City' nickname. Tours include the Al Ain Museum, the largest camel market in the United Arab Emirates and the historic village of Buraimi. You can also explore Hili Gardens, a site famous not only for its botanical gardens but also for its ancient tombs and other archaeological finds. There are also multi-day off-the-beaten-track tours offered for the area with complete itineraries covering locations such as: Sharjah, the Hajar Mountains, Hatta, Al Ain and Abu Dhabi. All-inclusive tours can be a great way to avoid having to figure out where to stay or where to go. However, some of the spontaneity that makes travel magical can be lost.
Feel the green grass between your toes in the middle of the city
Image (c) www.dubai-information-site.com
Creekside Park is a pleasant alternative for a simple picnic with plenty of shade and a cooling breeze off the water. This is a particularly good place to bring the children as there are plenty of facilities for both kids and adults. It's large and surprisingly green park located just near the floating bridge in Oud Metha and is another example of Dubai creating something from nothing – the city is not just a concrete jungle filled with countless construction sites. Okay, it certainly is that but for a refreshing break from the usual hustle and bustle of urban life this park was an enlightened idea by the city authorities. The shopping can wait a few hours, right?
Dubai is an exotic region with many hidden gems to offer. When considering a vacation in Dubai, it's important to note that there are many high-quality yet inexpensive hotels available. Be sure to shop around for the best deals.
About our contributing author: 
Armand Smith enjoys traveling and writing about rare places to visit. His next project is a travel memoir about his experiences in the Middle East.