Continuing our mission to inspire and inform Grown-up Travellers we present the latest in our series of articles containing ideas for alternative things to do and see in well-known destinations. So far we've shared our tips on London, Stockholm, Copenhagen and Berlin. Then we featured Oslo, Paris, Amsterdam and Chicago and now we're off east to the magical city of Istanbul…
Great place – well worth leaving the coast for…
Or making it a destination in itself. Turkey is a huge and diverse country, the first impression most of us have is often one of the beach resorts. We've tried to encourage you to explore a bit in Ellen's excellent guide to day trips from Antalya but why not set your sights on a city break in Istanbul? Surf your way to the best cheap holidays to Turkey and perhaps you can combine both. As you're about to find out, there's more to Istanbul than you might imagine…
5 things in Istanbul your neighbours won't have experienced on their package tour *
* this may not be entirely true, but the odds are in your favour. Anyway, we're sure you'll enjoy these tips.
The Yerebatan Cistern
Image obtained from Flickr.com under Creative Commons (c) Neil Moralee
Best known (at least to me) as a location in the fab Sean Connery-starring 1963 James Bond film From Russia with Love, the Yerebatan Cistern is the biggest of several hundred ancient cisterns that lie beneath the city of Istanbul. With classical music reverberating off the still water and stunning lighting, the "Sunken Palace" is a welcome escape from the heat and noise above ground. Unfortunately you can no longer row a boat around to explore (which was what you did before they built the walkways) but you can't fail to enjoy the atmosphere in this huge underground goldfish pond. Yes, you read that right – bear with me here. The cistern was built by Constantine and later expanded to its current size by Justinian using 336 marble columns recycled from the Hellenistic ruins in and around the Bosphorus. Water is channelled from Black Sea reservoirs and via the Aqueduct of Valens and was stored as in the event of a siege or a drought. The Ottomans wanted running water rather than the stagnant variety and left the cistern unused until deciding to use it to water the Topkapi Gardens. After years of neglect it was cleaned by the city authorities and opened to the public in 1987. The water is clean and kept aerated with the help of a legion of king-size goldfish which are replaced about every 4 years. See?
Image obtained from Flickr.com under Creative Commons (c) Water & Society
If you follow the walkway to its end you'll find two Medusa heads, one flipped over and the other on its side which caused her to turn herself into stone, if you believe the mythology. It was also said that turning the Medusa upside down negated her powers. Either way, she's not going anywhere.
Yerebatan Cistern, entrance on Yerebatan Caddesi. Open 0900 – 1730.
http://www.yerebatan.com/ (website in Turkish only) 
Arkaoda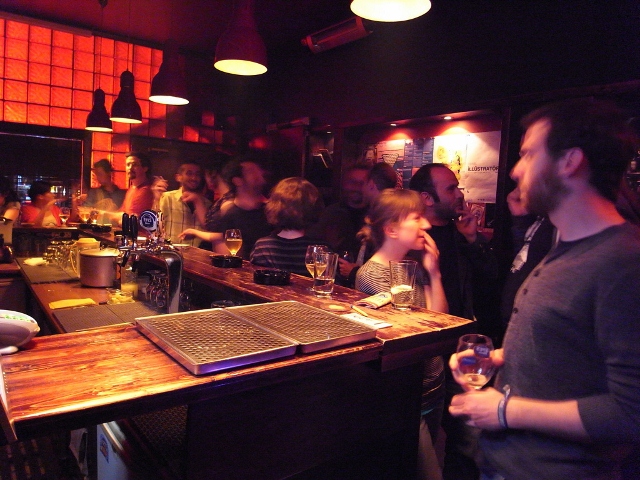 Image (c) salamuna.exblog.jp
Istanbul has become quite a hotspot for nightlife as well as history fans, but some of its best places are not that easy to find. Arkaoda is one of them – there's no sign outside and you'll be wondering if you've found it when you see the entrance, but that just adds to the experience. This lounge is seriously cool – and the owner takes his music seriously; just have a look at the website and you'll see what we mean – each night has its own genre and full details are online. Once you're in you'll think you're in a dive bar at first but make your way upstairs and it's more like a brothel from the roaring twenties, all velvet armchairs and a decadent ambience. Head downstairs and it's more the lounge you'd been expecting – keep going there's even a garden too.
Image (c) vimeo.com
At least four DJs play here each week, with their sets planned in detail well in advance. Even more enticing is the fact that leading musicians from all over Europe perform here every week – again check the website for the details. Open from 12 noon, Arkaoda is somewhere you can risk spending a lot of time in…
Arkaoda, Kadife Street no:18/A Kadıköy, Istanbul.
Santralistanbul
Image obtained from Flickr.com under Creative Commons (c) Garrett Ziegler
And now for something completely different. London has the Tate Modern, Istanbul has Santralistanbul. The Silahtarağa Power Plant was the first power plant built to supply the city of Istanbul during the Ottoman period. The building has been preserved and transformed by Bilgi University into a cultural centre; it houses a museum detailing the history of the power plant museum, but also art galleries, multi-functional areas for workshops and two excellent cafes: Otto Santral (a branch of the renowened Otto Cafe & Restaurant in Asmali Mescit) and Tamirane.
Image obtained from Flickr.com under Creative Commons (c) Mimar Sinan
Especially popular for families with children, the kids can run, bike and generally go nuts in the huge open area and the gardens of Tamirane and Otto Santral while parents make the most of Sunday branch or lunch. It is also a peaceful escape from city life. Take a tour of the old power plant and check out the current exhibitions – full details of the programme can be found on the website.
Santralistanbul, Eski Silahtarağa Elektrik Santralı, Kazım Karabekir Cad. No: 2, Eyüp 34060 Istanbul.
http://www.santralistanbul.org/main/index/en
The Ural Ataman Classic Car Museum
Image (c) Ural Ataman Classic Car Museum
Another surprise find in Istanbul is the Ural Ataman Classic Car Museum in Tarabya. A labour of love by businessman and vintage car collector Ural Ataman, this museum contains an exclusive car collection that ranges from the 1920s to the 1980s. It is also decorated with period advertisements (plenty of cool neon, of course) and old-style games.
Image (c) Ural Ataman Classic Car Museum
Rightly popular since opening its doors to the public 12 years ago, highlights include the 1961 Austin Healey Sprite MK1 (the 'Frog-Eye'), the 1950 Chevrolet Styline Delux and even a 1947 fire truck. After viewing all the cars you can have a drink afterwards at the American Bar. Note that the museum is only open on Saturdays but you may be able to arrange a private tour – especially if you're in a group – on other days too; contact details are found on the (very hip) website.
Ural Ataman Classic Car Museum (Klasik Otomobil Müzesi), Nuripasa Caddesi No:81, Ferahevler, Tarabya 80880, Istanbul.
http://www.atamanmuseum.com/eng/index.htm
Cafe Nar
Image (c) www.i-gunler.com
Hey, it wouldn't be one of our "Been there, haven't done that" guides without a bar, now would it? True, Arkaoda falls under this category but we couldn't resist adding this place. It's not exactly a secret but the fact that it has a tiny rooftop area might well be. We mean tiny, too – there's precisely one table so call ahead (phone number on the website) and book to avoid disappointment.
Image (c) www.i-gunler.com
Best for romantic liasons over brunch, the top floor offers a beautiful view over the Bosphorus and the menu here is diverse and reliably yummy, including both Turkish and Continental options. Oh and they have plenty of booze choices too, so once again it's the kind of place you can spend the day in, should you be so inclined. Perhaps that romantic start worked and you and your partner want to enjoy each other's company without moving on? Or if it failed, you can drown your sorrows in style…
Cafe Nar, Yahya Kemal Cad. No.16/B Rumeli Hisari, Istanbul.
http://www.cafenar.com/cafenar_english.html
Do you have anything you'd like to add to this list – something out of the ordinary in Istanbul? Please add your tips in the comments below, we'd love to hear from you!