This is a guest post by Alex Winter with additional material by Andy Higgs
Continuing our mission to inspire and inform Grown-up Travellers we present the latest in our series of articles containing ideas for alternative things to do and see in well-known destinations. So far we've shared our tips on London, Stockholm, Copenhagen and Berlin. Then we featured Oslo, Paris, Amsterdam, Chicago and Istanbul. We ventured to Australia last time, starting with Perth and now we're moving on to a city more familiar to tourists…
Sydney, right? There's more to it than the Opera House etc…
You're a little ahead of me there. Sydney is the subject of our next article; today we're off to another Aussie city…
5 things in Melbourne you'll love telling your friends about *
* well, probably. Especially if they've been to Melbourne and missed them all.
Named the World's Most Liveable City by the Economist Intelligence Unit's bi-annual survey, Melbourne is a melting pot of cultural experiences. With more bars and cafes than streets (okay, that's a slight exaggeration), Melbourne is the perfect place to go for any traveller who wants to get completely lost in a city. When in Melbourne, do as the locals do and explore. Add these places onto your itinerary of places to go – but don't forget to get side-tracked along the way!
Hardware Lane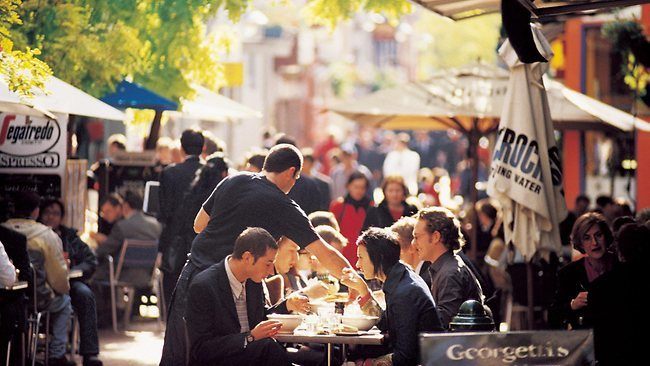 Image (c) heraldsun.com
One of the greatest things you can do in Melbourne is explore the hidden laneways filled with bars, cafes and some of the best street art around. Hardware Lane is just one fine example, running between the essential Bourke Street to Little Lonsdale. The cobblestone lane is closed off for traffic for most the day and evening, making it a great place to walk through and check out all the small shops and restaurants.
Image obtained from Flickr.com under Creative Commons (c) Leon Pun 
At night is when it really thrives, with many bars and cafes and usually accompanied by some live jazz music. Whilst this is one of the more well-known laneways, it is still a great place to have a taste of the true Melbourne, and will most likely motivate you to go explore and find some more trendy laneways on your own.
Rooftop Bars
Image (c) melhotornot.com
In addition to the hidden laneways, above the streets of Melbourne are various rooftop bars. These classy joints are a perfect place to have a meal or share a couple of drinks, enjoying great views of the city and water, and discover yet another unique aspect of Melbourne nightlife. They're good for both a relaxed night out or just some chilled drinks at the end of the day. During working hours the city may seem filled with corporate minds discussing business. At night, when the offices are closed, you can kick back at a rooftop bar and hear the city murmur begin to transform into relaxation mode.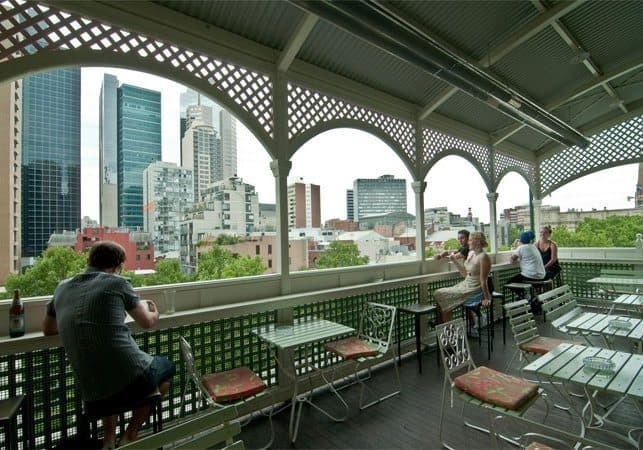 ¨
allthingsfi.blogspot.com
Possibly the most famous of the rooftop bars in Melbourne, Madame Brussels gives the impression of a swanky tea party complete with astroturf and seats like park benches. The friendly staff even wear cute tennis outfits. There is an indoor 'parlour' area as well as the outdoor terrace, with excellent views over the city. Order one of their quirky cocktails or a selection of snacks while pondering the fact that Madame Brussels is named after an infamous local brothel owner.
Greek Precinct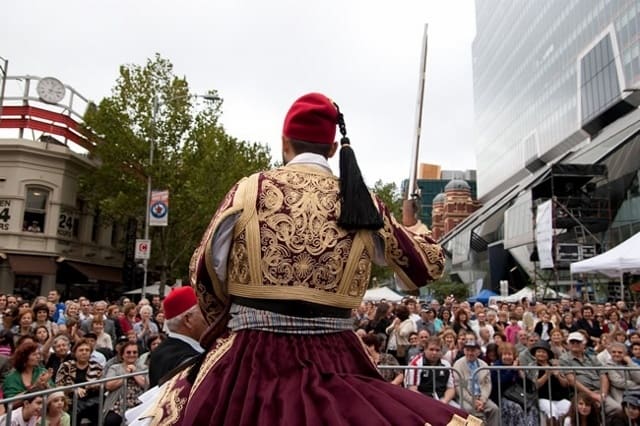 Image (c) Gerry Kourtis and Mark German-greekcity.com.au 
The multicultural nature of Melbourne is exemplified by the various international districts, including Chinatown, the Italian-oriented Lygon Street and of course the Greek Precinct. The Hellenic influence in Melbourne is encapsulated by the Greek Precinct, arguably providing you with your fix of the best Greek cuisine and atmosphere in the country.
Image (c) leonidas.org.au
Day or night, the area boasts everything Greek from Souvlaki to fresh cups of Greek coffee. It's not just food either, there's plenty of shopping to be done, not to mention educational attractions like the Hellenic Museum. During the night, Lonsdale Street offers plenty of bars and clubs where you can enjoy dancing to Greek tunes and of course, eat some late night (or early morning) Greek food.
Campbell Arcade
Image (c) hideseek.com.au
Still off the map to most visitors Campbell Arcade (also known as the Degraves Street Subway) is where you'll find an eclectic mix of clothing and jewellery stores, zine shops and art projects. Don't miss The Sticky Institute, stacked with zines, badge machines and cards. There's a good record store (we're talking vinyl) here and cool homewares at Corky Saint Clair. Twelve display cabinets in the subway tunnel showcase work from Platform, Melbourne's longest running public art initiative.
Image (c) melbournecurious.blogspot.com
You'll find the entrance via the stairs at the junction of Flinders Street meets Degraves. You'll probably be surprised how empty it is down here, given the busy overground location.
Wunderkammer
Image obtained from Flickr.com under Creative Commons (c) Mechatronics-Guy
We'd be doing Melbourne a serious disservice if we neglected to mention Wunderkammer when listing unusual things in the city. At first glance it looks like the Hunterian in London or the Sciene in Chicago but here's the twist – this is a shop and the scientific oddities are for sale. So if you've always found yourself hankering after a set of antique dental pliers or, yes, a full skeleton, look no further. Most people seem content to browse and it's well worth a visit just to look at what money can actually buy here…
Image obtained from Flickr.com under Creative Commons (c) mugley
Of course there are plenty of more obvious tourist attractions in Melbourne like Chapel Street, Federation Square and St Kilda beach, but to really get the best out of Melbourne you have to experience its alternative and multicultural glory. Exploring the laneways, bar hopping above the city, and eating the best international cuisines is only some of what this great city has to offer.
About our guest author: 
Alex Winter is an avid football fan with a passion for cooking.  Whilst he's no Masterchef, he enjoys cooking for his family and friends, and is famous for his interesting pie concoctions.