Continuing our mission to inspire and inform Grown-up Travellers we present the latest in our series of articles containing ideas for alternative things to do and see in well-known destinations. We started by sharing our tips on London, Stockholm, Copenhagen and Berlin. Next came Oslo, Paris, Amsterdam, Chicago and Istanbul. We then focused on Australia – you can check out these guides to Perth, Melbourne and Sydney – before coming back to Europe with Belfast and Levi in Finland. We took a brief sojourn to the Middle East for Dubai but today we're closer to home…
Trondheim? It's about time…
Not that close. It's time for the Eternal City, Rome.
Surely there can't be much left undiscovered in the Italian capital?
You might be surprised – despite being one of the most popular cities in Europe for tourists, there are still things to see and do that aren't on everyone's radar. Also, the sheer number of attractions in Rome means that the majority of visitors concentrate on ticking off the big names and have little time for lesser-known alternatives. But we love lesser-known alternatives…
5 things in Rome that your tour guide won't have on his list *
* well, we can't guarantee this is true but it is quite likely. And that's good enough.
Capuchin Crypt
Photo credit: Thomas van Ardenne via photopin cc
Beneath the Santa Maria della Immacolata Concezione church you will find the wonderfully spooky Capuchin Crypt. This holds the bones of more than 4,000 Capuchin monks – but rather than simply burying the remains in the ground they have been used to decorate the walls of a number of small chapels down here. This wasn't always the case though – it was in fact due to a capacity problem. The soil in the Crypt was actually sourced in Jerusalem which was clearly a rather brilliant PR move – it didn't take very long for the Crypt to become chronically over-subscribed. With nowhere left to bury bodies, somebody had the bright idea of digging up and cleaning off skeletons to use as artistic wall decor.
Photo credit: weesmalldoll via photopin cc
The Capuchin Crypt is an amazing experience and actually not as morbid as it sounds. There seems to be a touch of humour in the arrangements (that Grim Reaper for example) – or perhaps that's just my rather twisted interpretation. Some complete skeletons are dressed in robes, many bones are piles along the walls but the majority are used in the 'artworks' and to create arches. When you reach the final chapel a sign greets you with the profound words, "As you are, we once were. As we are, you will someday be." After the shiver has finished running down your spine, it's time to return above ground for some much-needed fresh air.
Consiglio di Malta
Photo credit: notarim via photopin cc
This is a very famous sight that few people actually make the time to visit, but more should. The Aventine area of Rome is where you'll find the Piazza dei Cavalieri di Malta. On the right hand side of the square look for a large white entrance facade which belongs to the Military Order of The Knights of Malta (Consiglio di Malta). There is a brass keyhole (above) in the gates with a stunning view that is often said to pass through three states – Malta, The Vatican City and of course Italy – and frames the dome of St. Peter's Basilica several miles away between two rows of hedges.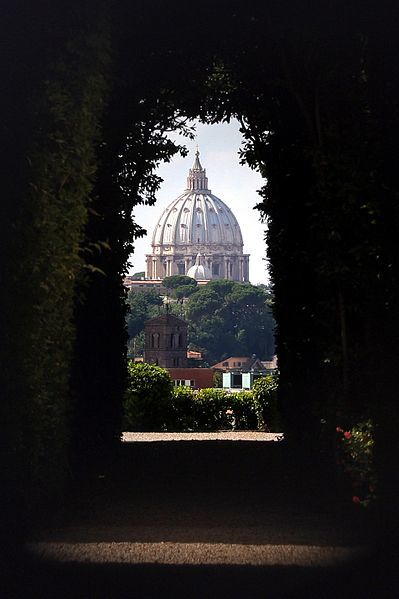 Image obtained from Wikipedia Commons under Creative Commons (c) AngMoKio
The gardens themselves are not open to the public but the view is there for all to enjoy. The entire square and the façade were designed by Giovan Battista Piranesi, a renowned architect and painter and contain many symbols and references with the keyhole being part of his master plan.
Frascati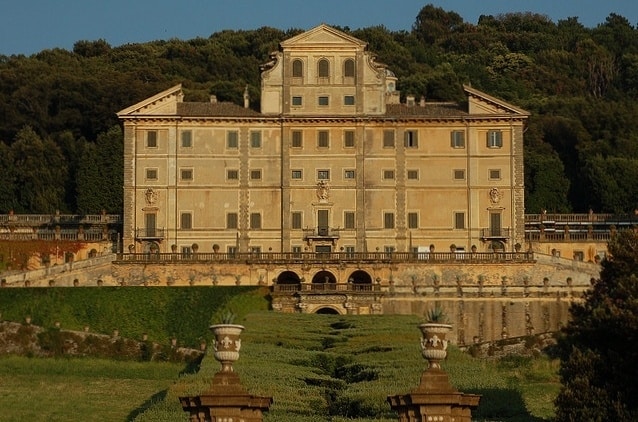 Image obtained from Flickr.com under Creative Commons (c) Leonardo Sagnotti
Frascati is best known for its white wine, but in times past was more renowned as a refuge for rich Romans escaping the slightly insane heat in the summer. Today it serves the same purpose for anyone smart enough to jump on the train for the 20 km journey to the south-east of the capital. And it doesn't have to be summer, either, as there are plenty of reasons to visit at all times.
Photo credit: sgatto via photopin cc
As well as the vineyards you'd expect to find here, there are many stunning classical villas nestling in the shade of tall pine trees with gardens perfect for lazy wandering, a good museum and excellent food. Okay, the latter is perhaps the most compelling reason. Try a porchetta panini (sandwich of pork roasted with herbs) from one of the stands on Piazza del Mercato or enjoy a sit-down mean at one of the many cantinas – served with a jug of refreshing Frascati.
Fiumicino
Image obtained from Flickr.com under Creative Commons (c) Raffaele Birnardo
If you can push yourself to get up early then you should make the most of it by visiting Fiumicino – the fishing town, not the airport – to watch the boats come in with their catch. If an early start sounds too unlikely then don't worry – it's still worth coming out here when you finally have dragged yourself out of bed. Like Frascati, this is best experienced as a sleepy contrast to the bustle of Rome  – a retreat where you can relax with a good meal, good wine and take all the time you want. Join the locals and visitors in taking a stroll along the promenade and pier afterwards and watch the sun go down.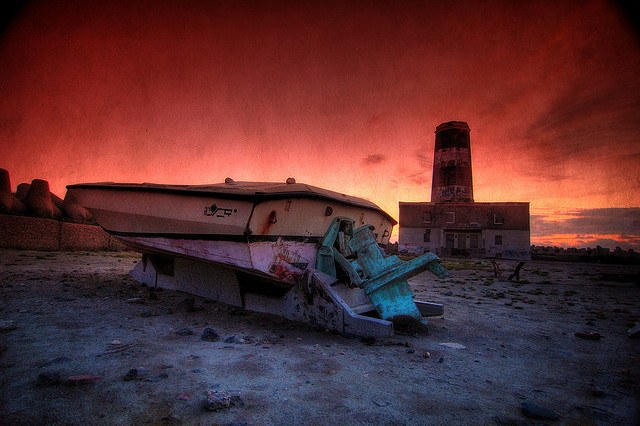 Photo credit: Rickydavid via photopin cc
The town is immaculately clean and well-kept; the sea air is wonderful (it's easy to forget how close Rome is to the sea when you're forcing your way through the crowds around the Trevi Fountain or the Spanish Steps. And if you're flying out of the nearby airport, why not spend a few hours winding down on the waterfront?
Piramide di Caio Cestio
Photo credit: eric.kornblum via photopin cc
One sight you probably wouldn't have expected to find in Rome is a pyramid. And this is no tiny copy; it's a 120 foot tall monumental tomb designed for an incredibly rich – and presumably rather eccentric – magistrate named Gaius Cestius in 12 BC. Practically nothing else is known about the man but it has been determined that the tomb was built in just over a month, which was quite something even for the hard-working Romans.
Photo credit: msako23 via photopin cc
At the time all things Egyptian were very much en vogue so clearly our Mr Cestius was a dedicated follower of fashion too. The only way to visit the pyramid is to join a guided tour – at present these are only given in Italian but you'll enjoy the experience even without knowing exactly what your guide is trying to tell you.