In our mission to inspire and inform Grown-up Travellers we continue our series of articles containing ideas for alternative things to do and see in well-known destinations. If you haven't checked out our post about London, what are you waiting for? Just make sure you come back here afterwards.
Okay I'm back. So it's on to Sweden now…
That's right. Stockholm is a fabulous place to visit and while way smaller than London, there's enough 'must-see' attractions to keep travellers busy. It also has a whole bunch of lesser-know things to do and see…
I kind of realised that, what with the title and all.
But we decided to start with 5. We'll be covering the whole Stieg Larsson thing in a separate article, if you were wondering. So off we go, it's alternative title time:
5 things in Stockholm your friends won't have heard about *
* well, there's a pretty big chance that they won't have, anyway.
Skogskyrkogården – The Woodland Cemetery
Image (c) Susanne Hallmann, Cemeteries Administration of the City of Stockholm.
Hard to pronounce and a little way out of town, Skogskyrkogården should nevertheless be on your Stockholm itinerary. Dating from the early 1900s, the woodland cemetery was designed with the purpose of mixing nature and architecture into a seamless experience. Stockholm's cemeteries were beginning to reach capacity so the city council decided to build a new one in Enskede. At the time, cemeteries were mainly seen as "Gardens of the Dead" but the committee in charge wanted to create a cemetery with its focus on the underlying landscape. Now afforded a place on UNESCO's World Heritage List, Skogskyrkogården is deemed to be one the most important examples of modern architecture and has been a major influence in cemetery design all over the world. A visit here offers a combination of nature, history, art and architecture which is quite unlike any other in the Swedish capital.
Everything at Skogskyrkogården is rooted in the visitor experience; in other words the sadness and loss felt by those in mourning. The routes taken by the bereaved to the chapels are designed to create and emphasise the appropriate mood prior to the funeral itself. The Seven Springs Way leading up to the Chapel of Resurrection is perhaps the best example of this. First the path is lined first with birch trees and then with conifers as the mourners reach the chapel. The idea is to create solemnity for the funeral service. After the ceremony, the mourners follow a different path back out of the west door of the chapel, the idea being to help the bereaved let go of their grief and gradually return to their normal lives once more. The natural surroundings become the focus, helping to reconcile the mourners with the sadness of their loss.
A long stairway leads up to the meditation grove (below), its steps gradually becoming smaller to ease the climb.
Image (c) Susanne Hallmann, Cemeteries Administration of the City of Stockholm.
It is also interesting to note that the granite cross which was added in 1939 is not intended to be seen as a religious symbol but to illustrate the manner in which life and death are intertwined. As it is the natural environment that is the centrepiece rather than the graves, these tend to be simple monuments mostly found in the wooded areas. Yet intricate – and often unusual – decorative details are found throughout the site.
Image (c) Susanne Hallmann, Cemeteries Administration of the City of Stockholm.
Skogskyrkogården is located in the south of the city at Enskede. T-bana to Skogskyrkogården Station. Open all year round. Public guided tours available in English on Sundays from July to September, private tours can be arranged all year. Check website for details: http://www.skogskyrkogarden.se/en/
Sturekatten
Image obtained from Flickr.com under Creative Commons (c) Bianca Bueno
Now those ultra-sleek, modern and stylish Stockholm cafes are all fine and dandy, but what about those times when you feel like having your fika with a large dose of kitsch? Yeah, I know, the urge comes to the best of us. For a genuinely different environment to have (excellent) coffee and cakes make your way to Sturekatten. Housed in a building from the 1700s and decorated like a lifesize doll's house, this Stockholm establishment is equally famous for its apple pie with meringue as it is for its waitresses in old-fashioned back and white uniforms.
Image obtained from Flickr.com under Creative Commons (c) Bianca Bueno
It may sound like a place for pensioners but Sturekatten is in fact very popular with the young crowd too (and everyone in between) – so much so that getting a table can be a challenge. In summer you can make use of the courtyard terrace for alfresco refreshments and it's central location makes it a great place to stop for a break.
Image obtained from Flickr.com under Creative Commons (c) Nicholas Boos
For a quirky trip back in time with fine coffee and pastries, head over to Sturekatten in Östermalm. And make sure you try a semlor (buns with almond paste and whipped cream) while you're there.
Sturekatten, Riddargatan 4.  T-bana to Östermalmstorg. Opening hours vary but are closing time is no later than 1900 – come during the day
Polkapojkarna
Looking for an unusual Swedish souvenir? What about a polka-pig? Rather than being a dancing farm animal (even Google Translate knows that) this is the name the Swedes use for a candy cane. If you pay a visit to the relatively new Polkapojkarna store and its on-site sweet factory in Gamla Stan (old town) you can see how "polkagris" candy canes are made. What's more, the polkagris is still made according to the company's original recipes from 1859 – by hand.  A huge range of (often rather bizarre) flavours are available but the classic Swedish polkagris is made of  twisted red and white sugary ribbons and a peppermint taste.
Image obtained from Flickr.com under Creative Commons (c) HamburgCam
If you were wondering about the pig thing, here's the story. Polkagris is indeed a combination of two swedish words; "polka" (the dance) which was used due to its 'swirling' style, and "gris" which does mean pig. But in Swedish it's also used in a light-hearted manner to describe a person who loves candy. Like Sturekatten, walking into this store is like a trip back to simpler times with its old-fashioned displays and decor.
The store in Stockholm is the first one outside of Gränna, the birthplace of the polkagris. This town of just 2,500 residents receives over a million visitors each year primarily due to its 150 year polkagris history, but you can save yourself a journey by calling into Lilla Nygatan 10 while you're in Stockholm.
Centralbadet
Image obtained from Flickr.com under Creative Commons (c) Truus, Bob & Jan of Holland
Fancy a swim while in Stockholm? Unless your hotel has a pool (in which case it's probably the size of a postage stamp) or it's the height of summer (in which case you can jump in the fjord as the water is so clean) you may be thinking that there's no reason to pack your trunks. Centralbadet is the reason. Designed by architect Willhelm Klemming to fulfil his vision of an open window on nature Centralbadet opened in 1904. It's hard to avoid using the cliche "an oasis of calm" so I won't even bother trying, because that's what it is. This art nouveau spa is located in central Stockholm in a quiet garden just metres from bustling Drottningatan.
Image obtained from Flickr.com under Creative Commons (c) Esther Dyson
Centralbadet is some 3,000 square metre in size and contains a swimming pool, gym, bar, restaurant,sun roof and the relaxation baths. It's a great place to revitalise and highly recommended – being Sweden it's not cheap but how often do you get the chance to take a dip in a place like this?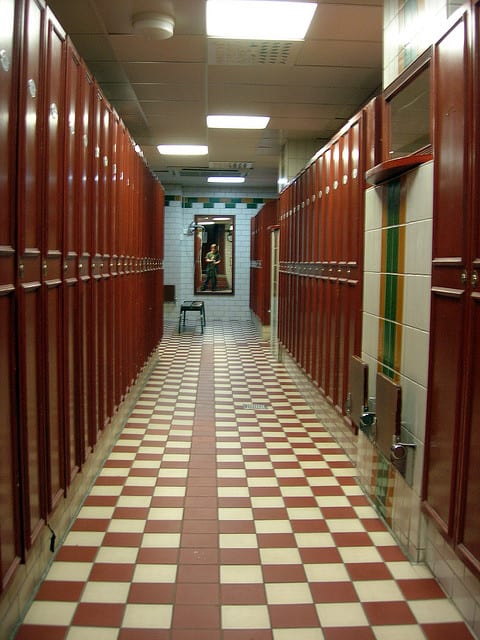 Image obtained from Flickr.com under Creative Commons (c) Jurriaan Persyn
You can hire towels and robes if you so desire, and a towel is required for the sauna. Note that children are not permitted – those 16 to 18 must be accompanied by an adult. Centralbadet has long opening hours so you should be able to fit in a visit during your stay. You definitely should.
Centralbadet, Drottningangatan 88. T-bana Hötorget. Open daily – see website for details
Kalikå
If you want to see the results of a well-considered 'fair trade' project – and perhaps buy a gift for a child (or the young-at-heart), take a look at Kalikå in Gamla Stan. Kalikå's colourful soft toys and dolls are hand made by parents of children with functional disabilities in Russia. The "Fair Play" project allows mothers to stay home to care for their children but also support themselves. This provides an alternative to having to place the child in an orphanage. Despite changes in the country old attitudes linger from the Soviet days – especially the stigma attached to disabled children. The independent Early Intervention Institute in Saint Petersburg provides specialized training for staff as well as providing help for the children and their families. Kalikå began a joint venture with the Institute in the 1990s and today 60 women are sewing Kalikå toys in their homes.
They meet regularly at the Institute to exchange their experiences of being parents with disabled children as they deliver their finished work and collect more materials. The profits generated are shared with the Institute and are used to increase support for functionally disabled children. Unlike many companies who are more concerned about cheap labour in other countries than poor working conditions, Kalikå ships Swedish made pre-cut materials and components to Saint Petersburg for the mothers to sew the toys. By establishing production in Russia it can comply with all the basic concepts for fair trade.
As well as its Russian-produced items Kalikå stocks a whole range of educational and traditional toys and games and is a good place to find something to take home that will be far more well-received than that "My Dad went to Stockholm and all I got was this lousy…" t-shirt you may have been considering…
Kalikå, Österlånggatan 18, Gamla Stan. T-bana Gamla Stan
www.kalika.se