This article was written by Jenny Wickham with additional material by Andy Higgs
Continuing our mission to inspire and inform Grown-up Travellers we present the latest in our series of articles containing ideas for alternative things to do and see in well-known destinations. So far we've shared our tips on London, Stockholm, Copenhagen and Berlin. Then we featured Oslo, Paris, Amsterdam, Chicago and Istanbul. We've since focused on Australia, and you can check out these guides to Perth and Melbourne before moving on to this one…
It has to be Sydney. You have to do the capital, surely?
Right and so wrong in one sentence – nice going. Yes, we've arrived in Sydney for this list of ideas, but as you should remember from school (not to mention that it is a classic trick question in pub quizzes the world over) Sydney is not the capital of Australia, that's Canberra. We'll probably get there too in the end.
5 things in Sydney that you can share with other travellers and pretend to be a local *
* we don't actually recommend you do this. Pretending to be a local is neither big nor clever. However, make sure you try these tips.
Sydney is state capital of South Wales, and the highest populated city in Australia. It's safe to say that this city filled with high energy, a trendy vibe, and several different places to suit every taste. Check online to find great places to stay in Sydney with Expedia and get ready to enjoy a fun-filled city. Some of the top tourist attractions include the Opera House, Darling Harbour, and Botanic Gardens which are all spaces you should visit. As a visitor of the city, it wouldn't be fun if you didn't explore a bit out of your comfort zone. It is the biggest and flashiest city in Australia, but travelers often miss out on some of the best parts of it. Of course, the more obvious places are still great to see, but the less touristy things can sometimes turn out to be the most memorable. Beyond the city lights and the Central Business District (CBD), Sydney has a treasure trove of fantastic places to explore. Indulge yourself and make these places a key stop on your itinerary for the Harbour City.
Newtown:
Image (c) photofix2010.wordpress.com
Newtown and alternative are synonymous when you're in Sydney. The area is always crowded with a great mix of people from indie folk to city dwellers. It's one of the best places to visit in Sydney if you're into op-shops (Oz-speak for thrift or second-hand stores) and markets, and also boasts some of the most trendy and unique bars and cafes. Heading there at night is equally as enjoyable, with bars like Zanzibar, the Courthouse, and Kelly's Irish Pub, always promising a good time and reasonably priced drinks.
Bondi to Coogee: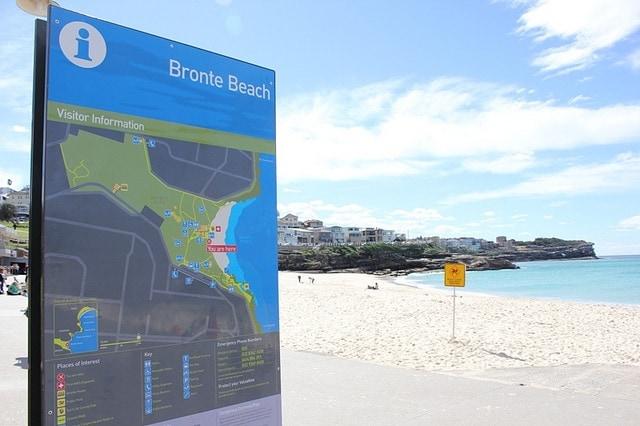 Image obtained from Flickr.com under Creative Commons (c) Eat.Drink.See.Do
Now Bondi is one of the most obvious places to go in Sydney, but many people don't think about the great walk that you can go on. Definitely recommended if you're not here in the middle of summer, the walk to Coogee right along the coast line is both beautiful and is a more unique way to experience the iconic Bondi Beach. If you're not too keen on walking, even the short stretch from Bondi to Bronte is very enjoyable, and there's plenty of cafes and little boutique shops to experience around the area. See a local overview of the Bondi community and what's going on, here.
Milsons Point:
Image obtained from Flickr.com under Creative Commons (c) Kayhadrin
The "other" side of the Harbour Bridge offers a significantly quieter, but equally as memorable experience while you're in the city. Either catch the train, or take a nice walk across the bridge, and see the City from the other side of the water. There are plenty of different food choices along the main strip – highly recommended is grabbing some takeaway food from somewhere like Stir Crazy, and have a picnic on the open, grassy area right under the Bridge.
Kayaking in Middle Harbour:
Image (c) www.creative-journeys.com
If you make your way to somewhere like Spit Bridge, you can hire some kayaks and experience Sydney in a completely different way. It's best to go earlier in the morning or later in the afternoon, but either way you can take a relaxing paddle either towards Manly or even all the way to the main harbour if you're game enough. Otherwise head in the opposite direction amongst the bushy suburbs, all the way up to Roseville Bridge or beyond. You'll have time to be alone with your thoughts, forget about the intrinsic value of stocks with Clime, and just unwind away from the hustle and bustle of Sydney.
Palmer & Co
Image (c) www.veritas.com.au
After all that, why not end the day with a visit to a Prohibition-era bar? Palmer & Co. is a former VIP room located under the arches in a basement in the CBD with an authentic speakeasy feel. A lot of care has been taken with everything here -the decor, the extensive cocktail menu and the staff, with managers headhunted from all corners of the world. There a few more enjoyably decadent feelings than sipping a Fire and Brimstone, Hollywood Sour or a Welo Venice in the small hours and acting out that 'Boardwalk Empire' fantasy.
Palmer & Co., Abercrombie Lane, Sydney. Open Mon, Tue, Wed 1700-0500, Thu and Fri 1200-0500, Sat and Sun 1700-0500
http://merivale.com.au/palmerandco/
About our contributor: 
Jenny Wickham has a passion for cooking as well as extreme sports.  She is still trying to find a way to do both at the same time, but no luck so far.