In our mission to inspire and inform Grown-up Travellers we continue our series of articles containing ideas for alternative things to do and see in well-known destinations. You may well have read our post about London and the one about Stockholm but now we move our attention to Copenhagen.
The self-proclaimed 'Capital of Cool'?
That's the one. Like all major cities Copenhagen has its must-see sights, such as Tivoli, Nyhavn and Rådhuset. The popularity of Danish TV series 'The Killing' and more recently 'Borgen' has also helped attract those interested in visiting the locations used in filming and being the home of the world's best restaurant Noma doesn't hurt either.
But that's what the 'Rough Guide' is for, right?
I prefer the Time Out guide to the Danish capital but yes, your guide book will cover the main attractions, and we covered the superb craft beer scene and the bike counter too. But why not spice up your visit with something a little more unusual, or as we like to say:
5 things in Copenhagen your friends won't have heard about *
* well, they might have done, but it's not that likely.
Torvehallene
Image (c) TorvehalleneKBH
After years in the shadow of its Swedish neighbour, Copenhagen finally has its indoor food market following the opening of Torvehallerne in September 2011. While it may not quite match the grandeur and history of Stockholm's Östermalms Saluhall it can certainly compete on the culinary front.
Torvehallene consists of two modern market halls in glass and steel in which you can find stalls selling local organic meats, cheese and honey as well as a range of international specialities from French olive oil to Italian coffee.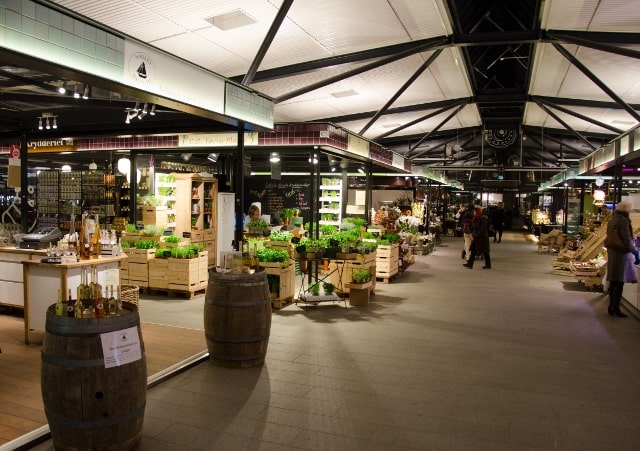 Image (c) Andy Higgs/Grown-up Travel Guide
Israels Plads in Copenhagen has been transformed from a squalid area frequented by drug dealers in the evenings to a thriving market with outdoor stands complementing the indoor ones when the weather allows. Hans Peter Hagens, the architect behind the concept, wanted to find a way to create city life and after travelling to places as far afield as Morocco, Turkey, China and Cuba decided that a market was the solution that would attract city life.
Originally pitched to the city council in 1997, political and financial obstacles got in the way. In 2008 the global economic slump saw the departure of Torvehallene's main investor and the project seemed destined never to be completed. Yet a new investor came aboard in 2009 and the wheels finally began to turn.
Hagens wanted a very simple structure and the layout was partly inspired by the Mezquita, the great mosque and cathedral in Córdoba, Spain. "In the market, the architecture has to be simple and like a background frame for the food."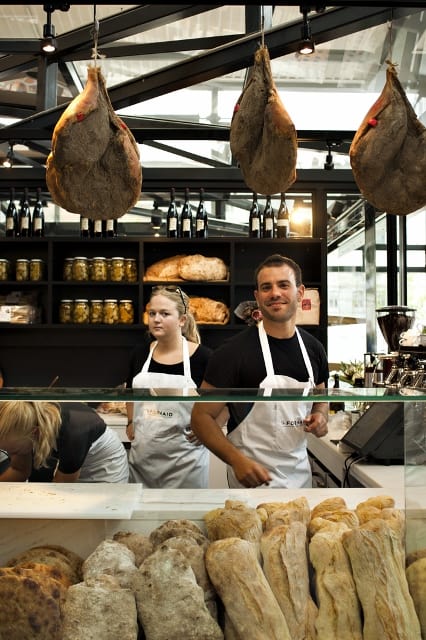 Image (c) TorvehalleneKBH
The twin halls have space for about 80 stallholders. As in Stockholm you can taste the finished products as well as purchase the ingredients – buy some cod at the fish market and have it fried and served up with chips to be washed down with a beer from the microbrewery stand. Foreign food on offer includes Spanish hams and sushi. Be sure to make the trip out to Torvehallene to see what's on offer next time you are in Copenhagen.
Torvehallene, Frederiksborggade 21, 1360 Copenhagen. Metro to Norreport. Closed Mondays. Opening hours vary – see website for details. 
Vinstue 90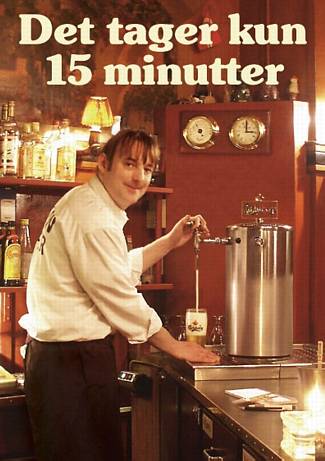 Image (c) Vinstue 90
Carlsberg beer. I don't know about you, but far from being 'probably the best beer in the world' I find the stuff bland and uninspiring. But that was before I tasted it at Vinstue 90. Old-fashioned with a capital 'O', this bar hasn't changed a great deal since it opened in 1916 and maintains its unique style (who could resist a visit after seeing the advertisement above?) A  proponent of 'Slow Beer', this bodega is a Copenhagen institution. You'll have to wait at least 15 minutes for your pint (most people order something quicker while they're waiting) since pressurized kegs are not used.
Image obtained from Flickr.com under Creative Commons (c) Bastien Vaucher
According to the Slow Beer philosophy this would ruin the quality of their tapped beer, so unpressurised casks are used with an old machine that foams the beer in its glass. However this means that the barman waits for the foam to settle up to 15 times before your beer is ready. But it's worth it – this is Carlsberg as you've never tasted it before and quite a revelation. You can also enjoy your tipple in peace, as of course there's no jukebox or sound system to disturb you. Prepare to be surprised (and to wait for it).
Vinstue 90, Gammel Kongevej 90, 1850 Frederiksberg Copenhagen. Metro to Vesterport then bus. Open every day from 1100 to 0100 (0200 Thursday-Saturday)
http://www.vinstue90.dk/index.html
8-Tallet
Image obtained from 8-Tallet website
To see the other, ultra-modern side of Copenhagen, make the trip to the emerging neighbourhood of Ørestad. The attraction here is 8-Tallet – the owners call it the 8 House in English but the Danish name means 'the number 8', or perhaps 'figure 8' would have been better. Anyway, 8-Tallet is setting new standards for private housing and is almost like a mini-suburb itself. Designed by Bjarke Ingels Group (BIG), the idea was to include services for its residents right from the beginning and thus be able to compete with a city centre where such facilities are considered the norm. The complex is Denmark's largest apartment building with 476 apartments, many with private gardens, and the ground floor includes a commercial area of some 62,000 square meters. 8-tallet was built on an east-west axis to provide ample daylight for all units and the entire building has a green roof and planted courtyards to reduce the heat effect. Despite its rural surroundings you can reach the city centre in just 12 minutes on the train.
Image obtained from Flickr.com under Creative Commons (c) Wojtek Gurak
A path traverses the entire building to allow for exercise and amazing views over Amager – this being Copenhagen access to said path is not only for pedestrians but also for cyclists. 8-Tallet is a bold project taking the best of city life and transplanting it into a housing estate and seems to have got the balance right – but time will tell if it manages to fulfil expectations. If you get in touch through the website you can arrange guided tours but it's worth just hopping on the train to see what could well represent the future of urban housing.
8Tallet, Richard Mortensens Vej 61, 2300 Copenhagen. Metro to Vestmager. See website for details of how to arrange a guided tour. 
http://www.8tallet.dk/visit.html
Haché
Image (c) Haché Gourmet Burgers
After the Danish microbrewery movement transformed beer almost beyond recognition, it appears that the humble burger is the latest target of a serious makeover in Copenhagen. During the last couple of years 'New Nordic' cuisine has been facing competition from the upgraded burger joint. In our opinion the best of these is Haché Gourmet Burgers. Now many of these new kids on the block claim to offer the best burgers in town but Haché delivers. I mean just look at that picture!
Image (c) Haché Gourmet Burgers
Since it opened its doors in November 2010, this relaxed restaurant has focused on using only the freshest ingredients and only on burgers – you won't find anything else on the regular menu. But these are not your regular meat patties in a sesame seed bun.There are 15 burgers to choose from and prices are reasonable at around DKK100; you can then add fries and don't forget the home-made chili mayonnaise – delectable. There are both vegetarian and vegan alternatives if you're weird like that. No reservations area taken so cross your fingers for a table – and prepare to have your concept of the burger changed forever.
Haché, Rømersgade 20, 1362 Copenhagen. Metro to Nørreport then bus. Open every day from 1200 to 2130  (2100 on Sunday)
http://hache.dk/index.php
Tuborg Beer Bottle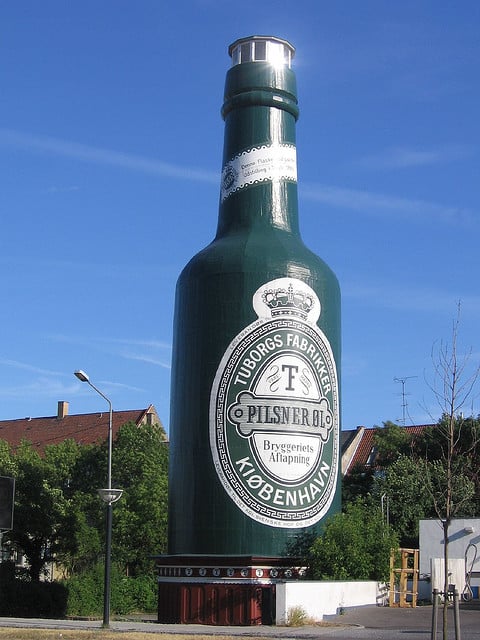 Image obtained from Flickr.com under Creative Commons (c) Michael Caroe Andersen
By now you'll probably have realized that beer dominates life in Denmark – and in Hellerup in Copenhagen it also dominates the skyline. Built for the Nordic Industry Exhibition in 1888 as a symbol of technological advancement, the Tuborg Bottle is an observation tower which originally also included Denmark's first elevator. Yes, it's in the shape of a beer bottle and stands some 26 meters tall – and must be one of the first examples of ad men going off the rails.
Built by, er, Tuborg Breweries, it was originally found near Rådhuset in the centre of town but after the exhibition it was (rather thankfully) moved to its present location in the northern suburb of Hellerup. Sadly you can no longer go inside but do venture our to Strandvejen and have a look. I mean it's not every day you can get your picture taken next to a giant beer bottle, is it? In case you were wondering (I know you were) you would need to empty 1.5 million standard beer bottles to fill it up. Cheers!
Tuborg Bottle, Strandvejen 40, 2900 Copenhagen. S-train to Hellerup
Do you have anything you'd like to add to this list – something out of the ordinary in Copenhagen? Please add your tips in the comments below, we'd love to hear from you!