In our mission to inspire and inform Grown-up Travellers we continue our series of articles containing ideas for alternative things to do and see in well-known destinations. So far we've been shared tips on London, Stockholm and Copenhagen and upcoming articles will cover Amsterdam, Oslo, Chicago and New York.
All good stuff. But today it's the turn of the German capital, right?
You got it. What to do in Berlin? Well there's so much to see and do, both sides of the former wall. Regular readers will know I lived there for a couple of years, and have taken some pictures to show how much the city has changed since 1990. You should also have a look at this article on Ostalgie and how to cure it before you go and get hung up on all that Trabi love. But if you also want to do something a little less off the tourist trail, read on…
5 things in Berlin your friends won't have heard about *
* er, I'd be fairly confident betting that they haven't, anyway.
Katteschmaus
Image (c) Suddeutsche Zeitung
Located right on the banks of the River Spree on the outskirts of Mitte you'll find the former soap factory, squat and now ubercool entertainment sport KaterHolzig. The compound contains a club, rooftop café and a gem of a restaurant in Katerschmaus. If you arrive at night finding the latter can be an adventure, but don't give up. You'll find clues in the graffiti-covered industrial ruins that lead you through an 'adults-only playground' past art installations, wooden shacks, a ship in the middle of a dance floor, beds, couches, beach huts, huge leather sofas, homemade furniture and old vending machines until you climb the stairs and open the door to the restaurant itself.
Image (c) Berlin.Unlike
You'll be greeted by the sound of happy guests enjoying themselves and a visual as well as gastronomic feast. The grungy appearance of both the locale and staff (tattoos and piercings are clearly obligatory) contrast with both the excellent food and attentive service.
The seasonally-inspired menu changes on a weekly basis and usually features provincial specialities as starters and main courses. The desserts are worth the journey alone and the wines are well-chosen to accompany the food. This "cat's feast" is ver popular; I was lucky to grab the last table and reservations are definitely advised.
Image (c) Angelikabooks.com
Make sure you give this place a try for an unusually successful combination of Berlin alternative and gourmet food in a highly unique setting. Rumours are that the building will close for renovations in a couple of years so don't hang about either.
Katerschmaus – KaterHolzig, Michaelkirchstr. 23, 10179 Berlin. Reservations 030 51 05 21 34. Open Tuesdays-Saturdays from 1900.
U and S Bahn Jannowitzbrucke. Check website for details: http://www.katerholzig.de/restaurant/
Schlangenbader Strasse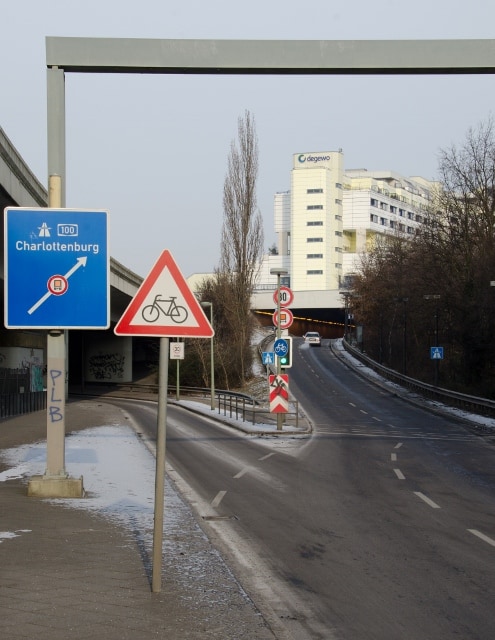 The motorway disappearing under the apartment complex – image (c) Andy Higgs, Grown-up Travel Guide
Berlin's mayor at the time famously said that "if the devil wants to do harm to this city, he will make sure that another Schlange is built". Not exactly a ringing endorsement for this slightly nuts architectural experiment, but it certainly remains a revolutionary slice of town planning. It is the only example of its kind in the world – an apartment complex built on top of a motorway in the 1970s. Others were planned, but perhaps due to the reaction to "the snake" and its huge budget overrun never got off the drawing board.
Yes, the autobahn is in that tunnel there, halfway through the complex – image (c) Andy Higgs, Grown-up Travel Guide
The scale of the project becomes clear when you visit this part of Wilmersdorf in western Berlin. 1064 apartments sit on top of 600 meters of motorway. The sound and vibration proofing are so efficient – well this is Germany – that even when standing directly underneath the motorway all that can be heard is a low drumming sound – and for the residents above there is only silence.
And out it comes the other side, after some 600 meters under the 1046 apartments – image (c) Andy Higgs, Grown-up Travel Guide
The Schlangenbader Straße property remains the largest connected residential complex in Europe and is well worth a visit. Berlin offers many architectural curiosities and another, more central one can be found at Pallasstrasse – see the photo and brief description here.
Schlangenbader Strasse, Wilmersdorf, Berlin. U-Bahn Breitenbachplatz
http://de.wikipedia.org/wiki/Autobahn%C3%BCberbauung_Schlangenbader_Stra%C3%9Fe
Breakfast on top of the Reichstag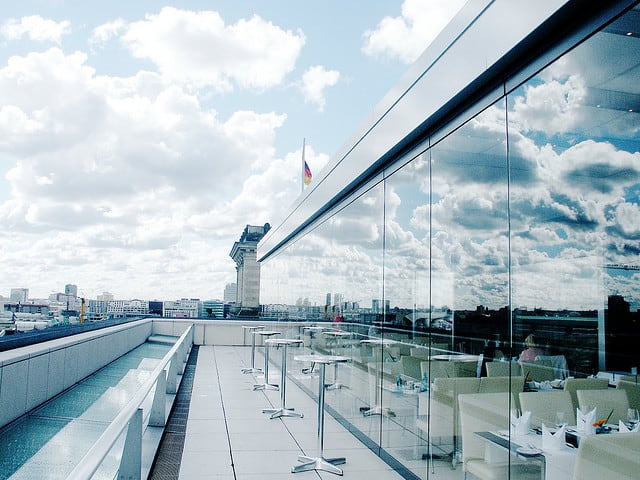 Image obtained from Flickr.com under Creative Commons (c) SIRDS
Okay, it's time to share one of my top tips for Berlin. I'm sure you are planning to visit the Reichstag and climb its impressive glass dome walkway when you visit the German capital. After all, it's an amazing sight and free too. The only problem is that you now have to register in advance online and on the few occasions they allow visitors in without doing so the queues are horrendous. But if you know how, you can skip them and enjoy an extremely hearty breakfast on top of the building at the same time!
The German Bundestag is in fact the only parliament building in the world to house a public restaurant, situated right next to the glass dome with superb views over the city.
Image (c) Andy Higgs, Grown-up Travel Guide
The restaurant Kafer serves quality modern German cuisine accompanied by German wines – but perhaps the best bet is breafast. Simply email them before visiting to book a table between 0900 and 1015 and turn up at the main entrance. If the weather is good sit outside on the terrace and try to make it through the full breakfast with Sekt (sparkling wine) while admiring the panoramic view over the city.
Image (c) Andy Higgs, Grown-up Travel Guide
Note that you will have to provide your full name and date of birth when booking and that you should bring ID for security clearance purposes. You will have to go through an airport-style body and baggage check before being escorted into the building, where you can pick up a headset and audio tour for the dome. It's a wonderful experience and you'll then be free to visit the dome afterwards and walk off a few calories…
Restaurant Kafer, Reichstag Building. Reservations email: kaeferreservierung.berlin@feinkost-kaefer.de Breakfast 0900-1015 Lunch 1200-1430 Tea 1530-1630 Dinner 1830-0000.
U Bahn Bundestag. Check website for details: http://www.feinkost-kaefer.de/dt_bundestag10/
Badeschiff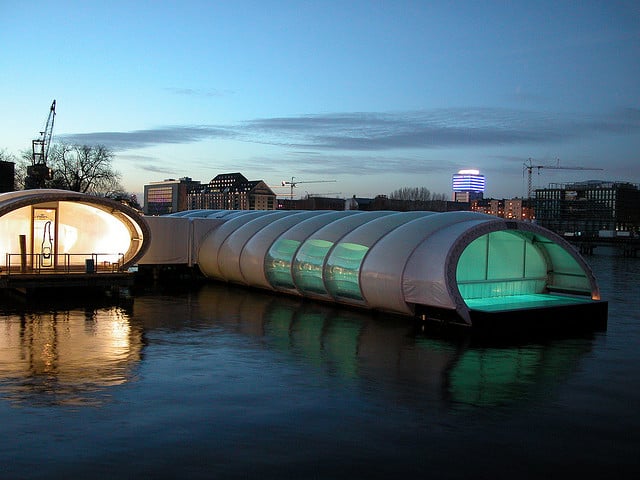 Image obtained from Flickr.com under Creative Commons (c) Maurizio Mucciola
The "bathing ship" – a floating pool, sauna and bar on the River Spree in Treptow is a massive hit in the summer – but what many visitors don't realize is that there is a winter version open in the colder months. Enclosed in a cosy membrane out on the water you'll find two saunas (95 °C & 70 °C), a swimming pool, rest area, massage rooms, lounge with a bar and a great view of the skyline of Berlin. A selection of healthy snacks and drinks are also available for purchase. Visit at night for the ultimate way to recharge your batteries before partaking of the Berlin club and bar scene. Turn up at the main onshore building, buy your ticket and rent towels, robes and slippers as required.
Image obtained from Flickr.com under Creative Commons (c) Maurizio Mucciola
Given that this is Germany most people go fully naked under their robes and let it all hang out in the sauna and pool – but thankfully you'll not be kicked out for keeping your shorts or bikini on either. Its location makes it ideal for relaxing before or after visiting Katerschmaus too – a combination I can recommend. Note that no cards are accepted – cash only.
Image obtained from Flickr.com under Creative Commons (c) Maurizio Mucciola
Badeschiff, Eichenstraße 4, 12435 Berlin-Treptow. Opening times vary daily – see website for details
http://arena-berlin.de/badeschiff_winter_2011-2012.aspx
Spreepark
Image (c) Andy Higgs, Grown-up Travel Guide
This abandoned amusement park began life in East Berlin in 1969 as Kulturpark Plänterwald, the only one in the DDR. After the wall fell it was privatized and continued to operate before a series of almost comical events involving bankruptcy, drug smuggling and imprisonment led to its closure in 2001.
It then became beloved by urban explorers and those after surreal photo opportunities of decaying dinosaurs and overgrown roller coasters. Even more exciting, the only way to get in was to climb over the fence.
It seems that the family that owns the park realized it was a case of "if you can't beat them, make some money out of them" and began to offer tours on Saturdays which became extremely popular – they even opened a cafe in the park. You will have to register on the website in advance as places are limited.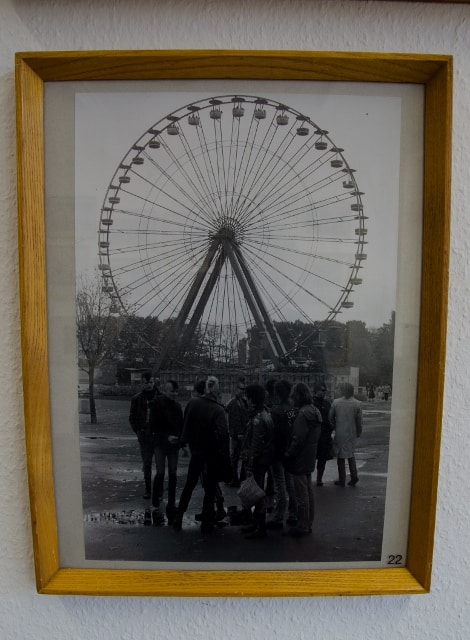 Image (c) Andy Higgs, Grown-up Travel Guide
The park was once a landmark of communist East Berlin and can be seen in many photographs from that time – including this one taken by Stasi agents spying on punks and on show at the Stasi Museum.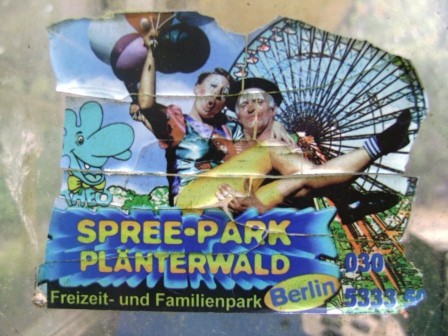 Image obtained from Flickr.com under Creative Commons (c) jc_82
Many of the attractions remain but are overgrown and rusting. Yet this is the attraction, and the silence of the place creates an eerie atmosphere – which is why most people prefer to break in and avoid the crowds of the official tours. To gain entry to Spreepark you'll have to find one of the many holes in the fence to squeeze through or a low part to jump over. Signs state that the park is patrolled by guards 24/7 but I saw nobody and this is believed to be no more than a deterrent. Of course it's up to you but the risks are worth it for the graveyard of beheaded dinosaurs and swans, an large abandoned ferris wheel that creaks in the wind and a neglected lake.
Spreepark, Kiehnwerdeallee 1-3, 12437, Berlin. S-Bahn Treptower Park. Tours on Saturdays only.
http://www.berliner-spreepark.de/events_fuehrung.php
Need to save up for your time in Berlin? If you're feeling lucky, you might be able to boost your trip budget with a spin of the wheel at InstaCasino…
Do you have anything you'd like to add to this list – something out of the ordinary in Berlin? Please add your tips in the comments below, we'd love to hear from you!